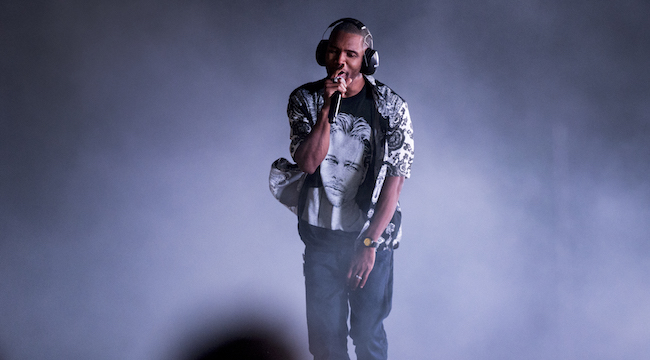 Update: Frank's Tumblr was apparently hacked by someone going by the handle "SpirDark." SpirDark wrote "2019 Comeback (soon)," at the top of the page, along with a warning that "nobody is safe." The opportunistic hacker added, "Email me if you're interested in buying unreleased Frank songs," which — hey, I can't tell you how to spend your money, but if you really reply to the below email, you're begging to get scammed. SpirDark also posted a message promising that they will release the promised song feature Andre 3000, Kendrick Lamar, and SZA if the post got 25,000 likes. You can see more info in the embedded tweet below.
According to a post on his Tumblr page, the ever-enigmatic Frank Ocean could have new music coming next month. Ocean posted a cryptic, minimal message: "MARCH 1ST..SOLANA + KL + ANDRE. HERE FOR THE BEANS." We're guessing Solana is Solana Rowe (aka SZA) KL is Kendrick Lamar, and Andre is Ocean's frequent collaborator Andre 3000.
Speculation when it comes to Frank Ocean is fruitless, but SZA's involvement hints that he might be preparing to release a full cover of her song "The Weekend," which he shared a clip of on Instagram a few weeks ago. But, knowing Ocean, it could also be something completely different — or March 1 could come and go and we'll still be wondering what Ocean, SZA, Lamar, and Andre 3000 were up to that day.
Ocean also posted another cryptic message: "? (2019) ? (2019) ? (2020)." This one could be hinting there might be two new projects or releases coming this year, and another next year.
Ocean's last album, Blonde, was released alongside a visual project, Endless, in 2016. Last year, Ocean released a cover of the Breakfast At Tiffany's classic "Moon River" and was featured on Travis Scott's song "Carousel." In 2017, Ocean released a handful of standalone songs, including "Biking," "Chanel," "Provider," and "Lens," and launched the Beats 1 Radio show Blonded.