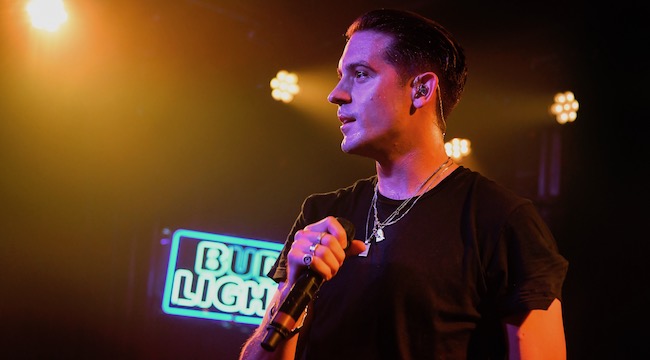 It's early in the evening in New Orleans, and I'm sitting on a plush couch on the third floor of the Blue Nile overlooking busy Frenchmen Street below. Despite the warnings of ill weather from Hurricane Harvey, outside the sky is a brilliant cobalt blue, and a soft breeze provides a brief respite from the crushing humidity. Seated next to me is G-Eazy, the Bay Area rap star, who in just a couple hours will smash the club below with an intense set as part of Bud Light's Dive Bar Tour. Sitting nearby watching our conversation on the next couch is Halsey, who will pop the crowd huge as a surprise guest later on tonight, along with Cardi B.
It's a good time to be G-Eazy. In just a few weeks he will finally pull the curtain back on his next release, a double-album in fact, titled The Beautiful And Damned. The first two offerings from that release "Him And I" with Halsey, and "No Limit" with Cardi B, are set to drop soon, but right now, he's focused on what going down tonight, trying to simultaneously make an impression on the people in front of him while entertaining those sitting on their couches at home. "You have so many people in the crowd but then you have so, so, so many more people streaming online," he says. "I think it's a challenge to connect."
Of course he's worried for nothing. The show goes off without a hitch. The crowd goes nearly word for word with him on hits like "Me, Myself & I," "You Got Me," and "I Mean It." Everyone loses their minds when Cardi walks out in a sparkling silver dress and airs out "No Limit" for the first time, along with "Bodak Yellow" of course. There's an even greater moment of high drama after the cameras are turned off during the encore when, while performing his new song "Him & I" with Halsey, he goes in for an eye-popping, "Did that just happen" makeout session onstage, the two of them practically devouring each other in front of the 250 or so people in the building.
Even after all of the success he's already managed to accumulate thus far in his career, G-Eazy seems ready to shoot his shot and make the leap into a new stratosphere of recognition and respect. His personal goals are huge. When asked what he hopes to accomplish in the next several months, his answer is as immediate as it is definitive. "Take over the world," he says. "Literally, become the biggest thing in the world." Read the rest of our conversation below.
So, tonight, you're going to bring out Cardi B and Halsey during the show, and I know you have a couple of songs with them on your upcoming album. Can you talk a little bit about how those tracks came together?
Those are two songs off my new album, The Beautiful And Damned, that I'm probably the most excited about, to be honest. One, "Him And I" is with Halsey, who I've been a fan of for a long time and I was really excited finally to get to work with and do a record with. I'm super excited to get to perform with her. She's an artist who I admire a lot because of her work ethic and how hard she's toured. That's kind of how we came up. We were on the road for a long time and she's one of the only people I know who probably toured even longer and harder than I did and has literally been everywhere in the world and back and grounded to get to where she is. I always say no one makes it to this level by accident. It's always a treat to get to watch people do what they do and what they're great at when they get to that level because literally, they're there for a reason. They're great performers.
I'm really excited to perform with her for the first time tonight. I mean, we did the record and all, but I'm excited to share that energy in a live space on stage. It's different. When you listen to a recording it's like you're living with something that was made in the studio that was thought out, that was written, that was recorded, that was mixed, that was whatever. But when you're experiencing it live, it's experiencing music in its most purest, most rawest form.
How about the record with Cardi, "No Limit?"
I'm a super fan of her and everything she's doing right now is incredible. I think she represents where music is today. It's real, it's raw, it's honest, it's pure. It's not contrived, it's not overly thought out or put together. It's just what the youth is reacting to, what the culture is reacting to, what sounds and feels good. You know? What sounds and feels good is what's working. Her music's incredible. Her whole personality, her energy, everything.
What kind of vibes are you trying to capture in the new record? How is it different from what you've done in the past?
It's a double album.
A double album really?
Yeah, and one is more G-Eazy and one is Gerald. And I say that to say one is more fun in terms of not lighthearted necessarily, but like when the sun goes down and you start to drink a little bit of poison and you start to have fun and whatever. That side of the leather jacket wearing crazy rock star. And the other side is a more introspective look at the lifestyle and the celebrity and the sacrifices you make to get to where you are and the compromises and what comes with it. Kind of like the daytime look at the night before. Analyzing everything.
Do you draw any kind of inspiration from Future with the Future and HNDRXX projects earlier this year in that respect?
What he did was incredible. Yeah. It kind of felt double-sided in that sense too. I mean, I'm a Gemini and there's always been that duality in my music and there's always been that duality in my character and my personality. It's naturally been something I've always explored in my music. It's always been these two things, these two sounds. I just figured that with this album, why not fully go there and put together a concept album of these two fully split halves?
It's funny you mention being a Gemini. You look at some of the greatest hip-hop artists of all time, they're all Geminis. Tupac. Biggie. Kanye.
I think it comes down to the duality of what it takes to be an artist. There's these two sides of celebrity, there's these two sides of rap music and that's just naturally what we explore.
You mention the live performance being this incubator of creative talent. Can you go into a little bit of what that live experience means to you and how important that was when you were coming up?
Yeah. I'm a big believer in energy. I really firmly believe that we as humans each have our own independent and unique energies. When you walk into a room you affect the energy in the room. Somebody walks in with a bad vibe, you know what I mean, you set everybody off. When a superstar walks into a room you feel the earth shake almost. Or the light shine down on them. Different people have different energies. When you think about music and how it brings people together, you have a crowd of people and each individual person in the crowd has their own energy.
They have something in common, they love music. They're there at the show. They paid for the ticket. They bought parking. They drove out. They made plans because they love music. If they're watching your set, chances are either they love your music and they have a relationship with it, or a friend dragged them along and they're just there for the fun. They're there to appreciate what you wrote and there's literally this back and forth conversation of energies between the person who wrote the music and the person who has a relationship with the music. So, if you think about it as light beams being literally shot back and forth between every individual person in the crowd and the person with the microphone on stage, that's a whole lot of energy in this confined space.
It's a powerful thing.
It's a very powerful thing, man, when it's pure, when it's real. As a performer I've very cognizant of that and I'm very appreciative of every time I get to step on a stage and I take it seriously. I go out there and just try to give it my all and give off a lot of energy and hope that the crowd feed off of that and responds to it.
Speaking of performing, you're doing the Bud Light Dive Bar tour show tonight in this intimate space here in New Orleans, which I know, has a special place in your heart. What was that made you want to link up with Bud Light to do this sort of thing and join the likes of John Mayer or Lady Gaga?
It was an honor. I felt totally humbled that they would ask me to do it. It's an honor to be next to those names. You say John Mayer, you say Lady Gaga, these are international superstars. Super iconic figures in popular music. So to be even up there with them is an incredible honor. I was floored, honestly. I was appreciative of them reaching out. Past that, when opportunities come my way, what I try to do is ask myself, "Does this make sense for me?" It's not about what the check it, it's not about what the opportunity is, it's does this make sense for me. Something like this makes perfect sense. I may not get a chance to come back to New Orleans and play an intimate show in front of some of my best friends and earliest fans and get to do cool shit. That's what it was really about. Bud Light puts together these events and makes these cool ideas come to fruition. It was a no brainer.
You're a Bay Area guy obviously, but can you talk about what New Orleans means to you? It's obviously had an impact on your life.
The Bay will always be home. There's where I'm from. That where I represent all day. Every single place I go. It's in my DNA. It's who I am. I moved to New Orleans when I was 18 and it had a really big impact on me. It's been a second home ever since. It's where I found myself as an artist and as a performer especially. I made a lot of friend out here, friends to this day that I consider my best friends in life. Brothers of mine. Literally I'll remain close with for the rest of my life. My mom moved out here. My little brother lives here. It's a special place. You know, the Bay is very unique in all of its history. It's got a very rich cultural history.
Andre Nickatina, Mac Dre, E-40…
The Hyphy Movement, and for me 42 Shore by Dre, to before that from Hieroglyphics to past hip hop to Grateful Dead, Metallica, Green Day, to the Black Panther Movement to the hippies. It's a very unique place culturally. Moving on to New Orleans, it's equally unique and rich in culture and music and art. Even though it was completely different in the Bay Area and the music's different and the food's different, the pace and the way of life is different, it was similar in the sense that it was different. In the sense that it celebrated difference and uniqueness and character.
You've got your new album coming out in the fall, What's on the vision board for 2017-18? What do you see happening for you next?
I'll go back out on the road for probably a year or so. I'll tour this album all over the world and work my ass off like I always do. I look forward to sharing all this new music with the world.
You've obviously been incredibly successful with what you've done so far. What's meant the most to you? Is it the fans, is it the awards? What is it when you think about your career and how it's gone so far, what matters to you most?
Shit, taking care of my mom, that was the first. Seeing my family happy, making them proud, making my best homies proud, my closest friends. Getting that respect and keeping it. You can make all the money in the world but that means nothing if you don't have the respect from the people that you respect back. Gaining that respect from my friends, that respect from my idols.