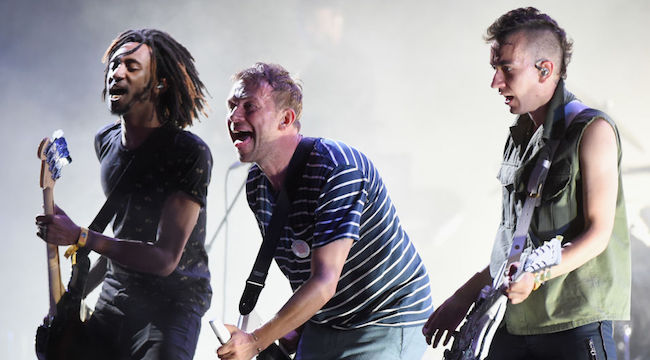 Damon Albarn and Jamie Hewlett's animated rock band Gorillaz has hardly been prolific in nature since its debut album in 2001. The duo usually spends many years between releases, with the notable exception coming with their 2010 offering The Fall, which Albarn recorded on his iPad while on tour for their other 2010 album, Plastic Beach. But even that one feels like an outlier for their career, especially considering the guest-heavy approach they've taken of late. It's not surprising that a Gorillaz album takes time, and when considering Albarn's many other music endeavors, which of late have included projects with Blur and a solo album, a follow-up to this year's Humanz could reasonably be expected to be years away.
Not so, says Hewlett. In an audio interview that has surfaced on YouTube (as reported by Stereogum), Hewlett reveals that Gorillaz plan to keep this year's momentum going and head right back into the studio to release a new album in 2018. "We're going straight into the next album with no break," Hewlett said. "Usually we have a good five-year break between each album but we decided 'you know what, let's keep going' because there's ideas for a few more albums, so we're going to go straight into that. So that will be all of next year and probably the year beyond that."
Hewlett adds that after 2019, the band might take some time off or could conceivably keep going strong. He also notes that he's creating a new style for the next Gorillaz album, so fans should expect the visual component to be revamped. Listen to the audio below, with the pertinent portion coming around the 10:20 mark.