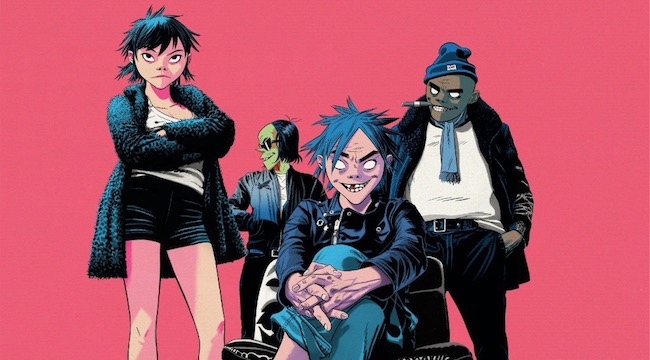 Later this month, on June 29, Gorillaz will pull the curtain off their brand new album The Now Now. Last night, during a gig at Germany's Rock Im Park festival the band unveiled four, previously unreleased songs from the project, one of which is titled "Sorcererz" that they have decided to share today.
"Sorcererz" is Gorillaz at their finest. Soaring pop melodies, sleek sonic construction, and extremely danceable. It might just be their finest single from The Now Now that we've gotten to hear yet, though you can check out their earlier releases, "Lake Zurich" and the George Benson collaboration "Humility" and be the ultimate judge of that.
Unlike the last Gorillaz album Humanz, which counted a vast number of different collaborators, a literal who's-who of some of the biggest stars on the planet, including Noel Gallagher, Grace Jones, Vince Staples, DRAM, De La Soul, Danny Brown, Kelela, Mavis Staples, Pusha T, to name just a few. The Now Now appears to be a more Gorillas-Oriented affair with frontman Damon Albarn revealing recently to Apple Music DJ Zane Lowe, that he wrote most of the album while on the road, touring the U.S. That being said, the group did pull in none other than the Doggfather himself, Snoop Dogg for the album's opening track "Hollywood."
You can check out Gorillaz's latest single "Sorcererz" in the video above.