One of the highlights of any award show — from the Grammys to VMAs — is the moments between the performances and presentations, both scripted and unscripted, that resonate with an audience and make us laugh, cry, and react with compassion, outrage, and relief. It's those moments that define the best award shows and which are talked about long after the performances are forgotten and the trophies have found their way to the stars' mantles (or bathroom counters).
The 2018 Grammys definitely contained their share of highlights, many of which directly involved the efforts of jovial host James Corden. Of course, many of the performances were memorable as well; from Childish Gambino bringing out the viral star "NBA National Anthem kid" to Cardi B's unbridled joy while performing the "Finesse" Remix with Bruno Mars, the stars made their own magical moments amid the hilarious and inspiring skits, sketches, and asides that made the show one of the best in a good long while.
Below are some of our favorite moments and highlights from the show.
Tony Bennett and John Legend singing "New York, New York" in pitch-perfect harmony
Two of the best voices in modern music shared a moment on stage while preparing to present the Best Rap/Sung Collaboration award. Bennett has been active in the music business for 60 years, while John Legend has been around for the better part of the last 15, but when they perfectly blended their voices for a classic rendition of the standard "Theme from New York, New York," both sounded utterly timeless.
Kendrick Lamar shouts out "Jay-Z for President"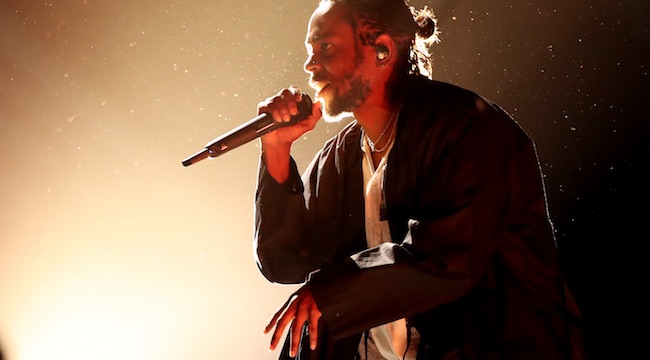 When Kung-Fu Kenny hit the stage to accept the award for Best Rap Album, he was more than gracious to the contemporaries he'd beaten out for the award — especially the one who opened so many doors for hip-hop at the Grammys and in the public eye. While many would have been content to simply shout out Jay-Z in their speech, Kendrick went a step further, putting a political spin on his praise to his idol, saying, "Jay-Z for President." With an endorsement like that, a Jay 2020 bid would almost certainly lock up the youth vote.
SZA loses out on Best New Artist and her fans are devastated
According to Twitter, in the 15 minutes after Alessia Cara beat out SZA for the highly-coveted Best New Artist award, traffic for searches containing "SZA" was 15% higher than tweets containing "Alessia Cara." Clearly, Cara deserves congratulations for winning the award and should feel good about it. But the people have picked their champion. While SZA may have been frozen out in her first year at the Grammys, as Rebecah Jones pointed out, the loss just might light the fire that propels SZA to new levels of superstardom. SZA got her moment to shine later with a defiant performance of her CTRL favorite, "Broken Clocks."
James Corden gives the Best Comedy Album losers consolation puppies
Dave Chappelle won the trophy for Best Comedy Album, but Jerry Seinfeld, Sarah Silverman, and Jim Gaffigan won't feel too bad about the loss, thanks to the consolation prize arranged for them by James Corden. Saying that he didn't want anyone to go home empty-handed, he sent a small cadre of consolation puppies to the non-winning nominees, before warning them that the adorable trophies "bite" and "aren't toilet trained."
Kesha's Big Moment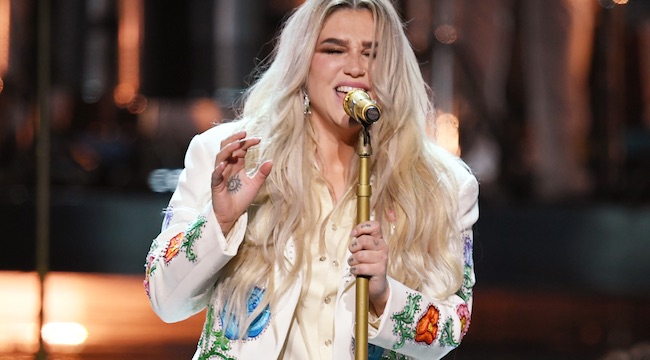 I tried to focus on the moments that weren't performances, but there was one performance that absolutely has to be acknowledged. Kesha's big moment transcended simply being another Grammy performance. It surely must have been cathartic and vindicating for her to perform her massive, deeply personal hit "Praying" live for an audience of millions after fighting her way back from one of the worst experiences anyone can go through to have the triumphant moment onstage, surrounded by the support and acceptance of her fellow women and peers.
That fantastic Fire And Fury audition sketch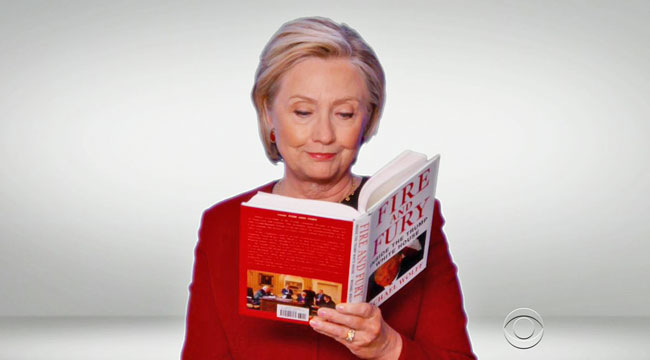 First of all, I will get an Audible account right now if I find out that Snoop Dogg is narrating books now. Of course, how he'd ever find time with all the other occupations he currently has — including recent stint in Twitch streaming — I don't know, but he, DJ Khaled, and Cardi B are officially on my personal shortlist of best audiobook narrators. Of course, the true draw in the sidesplitting sketch was seeing Hilary Clinton appear from behind the tell-all's dust cover to deliver a stinging passage — and imagining 45's inevitable Twitter meltdown if Clinton ever actually did win a Grammy for reading a book roasting him.
James Corden's parents went to see Hamilton
A fun thing James Corden likes to do when he hosts shows is to check in on his parents in the audience. The results are often quite funny, and tonight's moment was no exception. Catching his dad with a Hamilton playbill, he asked, "Did you guys go see Hamilton?" with the obvious implication being that they went to watch the Broadway sensation that's nearly-impossible-to-score-tickets-to instead of coming to see him. As his dad replied, "It's Hamilton!" Hey, the man's got a point. James Corden will probably host another awards show at some point. You never know if/when you're going to get be able to get tickets to see Hamilton.
Camila Cabello's perfectly shady snapback at her old bandmates
This moment wasn't a part of the show proper, but it was too good to pass over. For the better part of the last couple of years since Camila Cabello walked away from pop group Fifth Harmony, her bandmates have found sneaky ways of taking shots, going so far as to dramatize her ejection from the group during their 2017 VMA performance. Well, it looks like Cabello has the last laugh; presenting at the Grammys, performing with Kesha, and topping the charts with her debut solo album, Camila. Oh, that fabulous hair commercial didn't hurt, either.