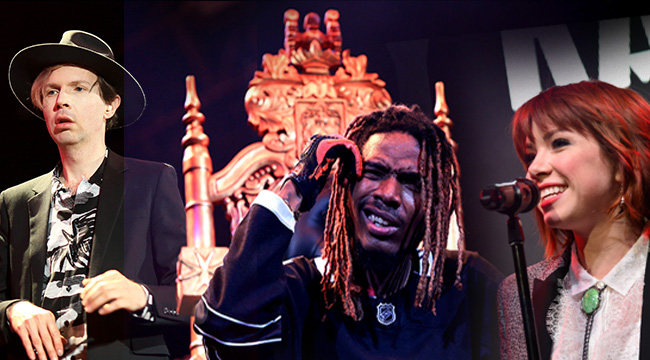 Grammy nominations were announced this morning, and while that's all well and good, sometimes the real story is the snubs. So, let's take a quick moment to run through some of the artists who were snubbed and, more importantly, artists we totally thought shouldn't have been snubbed.
Pop
For starters, Carly Rae Jepsen. This young fire cracker was completely shut out even though her album, Emotion, was in some circles, a contender for at least an Album of the Year nod. A good number of people whose opinions I trust are all sorts of up and arms about Jepsen getting denied, and I am nothing but not a follower at times. But still, both Jepsen and her album had a decent amount of buzz surrounding them, so it seems strange to see her being shut out. At the very least, she could've been thrown a bone in one of the Pop categories.
R&B
And how are you going to snub Rihanna, Grammy people? I mean, "fourfiveseconds" was by no means songwriting rocket science, but one would have thought it was Grammy catnip: Three Grammy-winners on one track! Dude, you liked it so much that you had them perform it at last year's show! Rihanna didn't even get a nomination for "B*tch Better Have My Money." Man. Tough crowd. I'm about four, maybe five seconds from also wildin' out.
Hip-Hop
My first reaction would be to wonder why the heck "Hotline Bling" wasn't included. But then, seeing as how I'm somewhat of an amateur problem solver, I'd do a quick Google search and learn that Drake didn't formally submit it. That's cool. It's not like Drake is going completely unnoticed here. However, my man Action Bronson is. Same for young buck Vince Staples, both of whom released albums that could totally have been considered in the hip-hop categories. I'd give an edge to Staples' Summertime '06 over Bronson's Mr. Wonderful, but would ultimately be happy with either one being nominated. Bronson should have at least been nominated for "Baby Blue," his track with Chance the Rapper.
Rock
Our man Beck, whose song "Dreams" was a contender for Song of the Summer, was also left out in the cold, failing to earn a single nod for the track, even though he would have fit nicely in any of the rock categories. "Dreams" is a great song and a fun left turn after his last album, which won big at last year's Grammys. Plus, if it's good enough for Ms. Taylor Swift, then how is not good enough for the Grammy voters? Don't they know that we, as a country, have all decided that Swift is our cultural barometer? This is madness. I bet even Kanye West thought "Dreams" was dope, and West hasn't been Beck's biggest supporter in recent years, let alone someone who is even aware of his existence. I have one word for you, Grammys. Actually, make that three.
Alternative
As for those pesky alternative/indie categories, Sleater-Kinney had been in the wind for almost 10 years and came back into our lives with the rock solid album, No Cities to Love. Yet despite showing up on nearly every critics' list on record, there was no sign of the band or their album when it came time to announce Grammy nominations. No sign at all. Now, you can't hate on the Grammys for straight-up ignoring indie bands and artists, as groups like Wolf Alice, Tame Impala and Wilco all were nominated. But come on, Grammys, you biffed this one and should feel pretty, pretty crappy about it.
Maybe I'm naive, but I would have thought we would have just penciled in Mumford and Sons' latest album into one of the rock categories back when it came out? Color me misguided, though. Apparently we are not living in a world where points are given for dramatic changes, of course, and bold attempts at revamping a band's sound.
Well, at least the Foo Fighters picked up a Best Rock Album nomination for Sonic Highways.
Wait, what?
It wasn't.
I give up.
Best New Artist
Speaking of madness, how was Fetty Wap not nominated for Best New Artist? "Trap Queen" had the kids jumping this year. Granted he was nominated for Best Rap Performance and Best Rap Song, but still, I mean yeah, but still, doesn't that kind of only highlight the travesty that Wap's omission in Best New Artist is? I for one think Meghan Trainor should be disqualified because of her participation in that Marvin Gaye song she did. That song is an assault on my ear drums and neither she, nor the dude she sings it with, should go unpunished for it.
Album of the Year
As for Album of the Year, there can only be five. I get that. I'm also pretty darn cool with the five albums nominated. However, if we could either add a sixth album or maybe replace one, shouldn't D'Angelo's masterpiece of a comeback album, Black Messiah, be there? Did it not get nominated because maybe it's too good, too funky? Those are the only reasons that I can think of. I mean, it's definitely not because To Pimp a Butterfly was nominated and some sort of imaginary quota had been filled, right? Right, Grammy voters? Please tell me I'm right and that the only reason it was left out is because there could only be five nominations and Black Messiah came in at six. Well, at least D'Angelo scored a nomination in the Best R&B Album category, as well as a couple nominations for his song "Really Love." But like, still? I wonder what America's number one D'Angelo fan, Questlove, thinks about all of this?
That's what I thought.