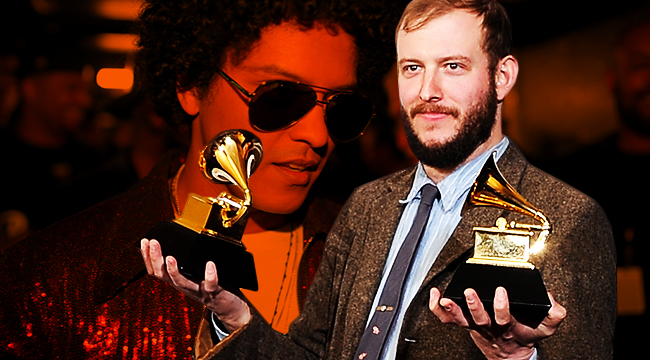 Bruno Mars is a fun and captivating performer who has proven himself more than capable of busting out a catchy hit with universal appeal, but his night at the Grammys yesterday raised some eyebrows. He was nominated in six categories, and he went six for six, including wins for Album Of The Year, Song Of The Year, and Record Of The Year over the likes of Jay-Z, Kendrick Lamar, Lorde, Childish Gambino, and highly esteemed others.
Among the eyebrows raised are those of Bon Iver's Justin Vernon, who was not too pleased when he caught wind of Mars' Grammy success. In a series of tweets, he wrote:
"Scanning headlines after playing Mexico City last night (holy sh-t did we feel at home… unbelievable city). Looks like Gammys are still something serious musicians should not take seriously! Absolutely NO offense to Mr. Mars, but you absolutely have to be shitting me. […]

To be factual, Mr. Mars made a name in the INDUSTRY by making hits OUT of hits of yesteryear (see: [a The Onion post titled "Nation Reaffirms Commitment To Things They Recognize"]). SO… no real need to be mad, even at the Grammys. SZA? KENDRICK? I'd say move on from this sh-t show. Felt like a Democratic Party party, not rock 'n' roll."

Vernon — who previously won Grammys for Best Alternative Music Album (Bon Iver, Bon Iver) and Best New Artist in 2012, and was nominated for a combined three others in 2012 and 2017 — was then asked by a Twitter user what releases he would nominate for Album Of The Year, to which he responded, "Not being clever, but man, hard to listen to a music JUST because it came out in this particular year. I do, and I think it's important, but hard to make a list of music that changed me this year, without including a bunch of music from people who are dead or gone."

He also took exception to the lack of female representation at the Grammys, and before the ceremony even began, he summed up his feelings: "The Grammys are for the music industry. Music itself is for everywhere else and everyone else. Good to remember."
Check out the full list of last night's Grammy winners here.