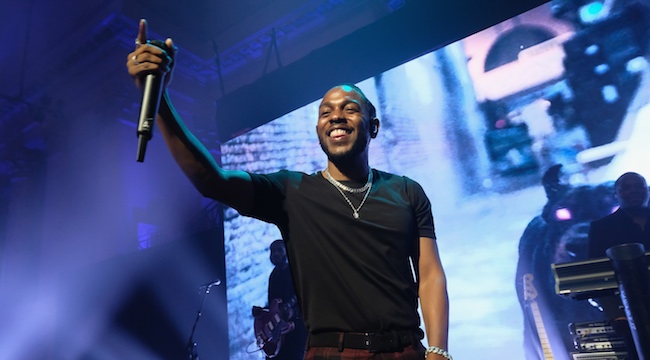 As this year's Grammys get closer and closer (this year's event airs on January 28th starting at 7:30 ET on CBS), what the ceremonies will actually be like is coming into clearer view. Now, more artists who will be performing during the broadcast have been announced, and it's a trio of heavy-hitters: Billboard reports that Kendrick Lamar, U2, and Sam Smith have all been tapped to perform during the show.
Billboard also notes that Lamar — who is up for seven Grammys, which is second this year only to Jay-Z's eight nominations — is set to kick off the ceremonies with his performance. It's also interesting that U2 has been added to the list, considering that Lamar and the band appeared on each other's songs in 2017: U2 on Lamar's DAMN track "XXX" and Lamar on U2's "American Soul," from their album Songs Of Experience. It doesn't seem unlikely that the two could perform together on Grammys night, especially considering that the two aforementioned tracks are like closely related to each other.
Meanwhile, Sam Smith has something of a spotted history with award show performances: He sang at the 2016 Oscars, and later said about his appearance, "It was the worst moment of my life. Singing was horrible. I hated every minute."
This news follows the Recording Academy's previous announcement about additional performers, when they said last week that SZA, Kesha, Cardi B, Bruno Mars, Luis Fonsi and Daddy Yankee, Alessia Cara, Khalid and Logic were added to the lineup.