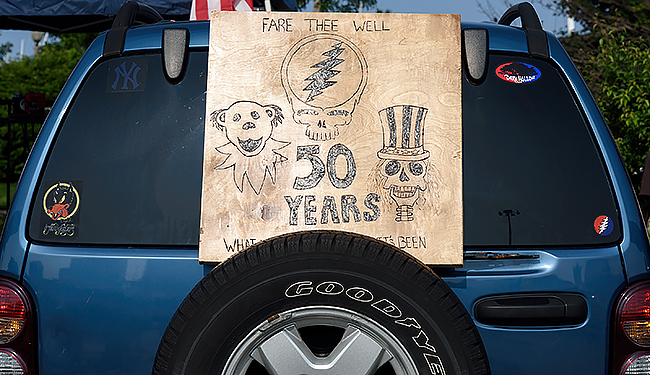 *Okay, not all, but a lot.
This past weekend, fans lucky enough to be in Chicago's Soldier Field were treated to an unforgettable experience, as the Grateful Dead played the last of their 50th anniversary concerts.
The "core four" – Bob Weir, Phil Lesh, ​Mickey Hart and Bill Kreutzmann – along with Phish guitarist Trey Anastasio and keyboardists Bruce Hornsby and Jeff Chimenti, played two sets exploring the history of the band's music while paying tribute to the late Jerry Garcia.
Among the record-breaking number of attendees were plenty of celebrity deadheads. Check out some famous people sharing their favorite moments from the show on social media below.
Katy Perry
Katy Perry and John Mayer
(Does this mean they're back together?)
George R.R. Martin
Bill Murray
Bill Walton
Bill Walton and Al Franken
Bruce Hornsby, Steve Parish, and Bill Walton
Lee Ranaldo of Sonic Youth
David Axelrod
John Popper of Blues Traveler
Chloë Sevigny
Andy Cohen
Jenny Lewis of Rilo Kiley
Liz Phair