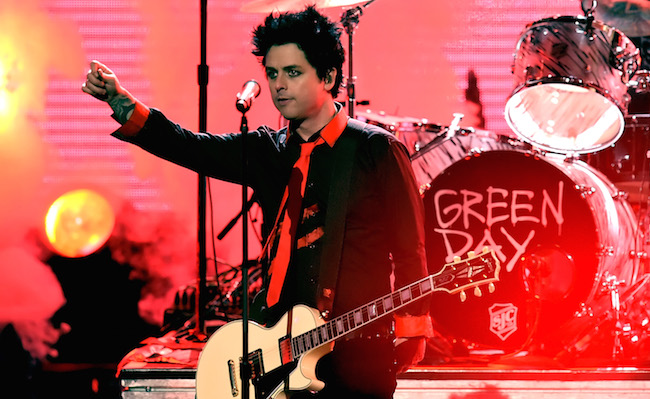 Green Day's Billie Joe Armstrong is speaking up and speaking out following a tragedy witnessed by thousands at Madrid's Mad Cool Festival. He wants the public to know that the band was not intentionally "heartless" in their actions following the horrible scene.
Acrobat Pedro Aunión Monroy plummeted 100 feet to his death on Friday night less than an hour before the veteran punk rock outfit took to the stage to perform. The decision to continue with the show resulted in backlash against the band, but Armstrong says they kept in the dark on what the medical emergency was. In a statement, the Green Day frontman insisted that they didn't know about Monroy's accident (he died later from his injuries) until after they completed the concert. He also expressed his sympathy on the acrobat's passing.
"We are so sad for Pedro and his family and we pray for them in this time of grief," said Armstrong. "I can't imagine how much suffering the friends and family are going through."
According to Armstrong, it was business as usual until they found out what had happened.
We were on stage at around midnight and played around two and a half hours. Everything seemed normal. the crowd and fans had a good time. We got off stage and drove back to our artist compound. It was there when we were told the shocking news about Pedro. All of us were in disbelief. I don't know why the authorities chose not to tell us about the accident before our concert. All we know is what was said after our concert.

This has never happened in the 30 years Green Day have been performing live. If we had known prior to our performance we most likely would not have played at all. We are not heartless people. The safety and well being at any of our concerts absolutely comes first.
Not to be grim, but festivals are no strangers to medical emergencies revolving around performers or attendees. It's certainly reasonable to ask if continuing with the show is appropriate (especially if concertgoers witness a horrible tragedy), it just doesn't seem like Green Day was doing anything malicious or insensitive. At a festival with a lot of swirling parts and the immediately unfolding aftermath of a terrible accident, these types of situations are simply bound to spring up.
(Via Rolling Stone)