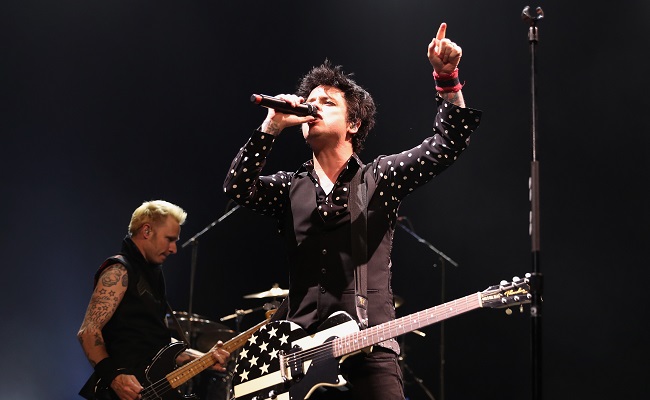 It might surprise you to learn this, but the band that introduced countless teens to the idea of protest anthems during the George W. Bush years don't count themselves among Donald Trump's fans.
In a new interview with Rolling Stone, Green Day frontman Billie Joe Armstrong explained how he's continuing that spirit of resistance while not letting it overwhelm his shows. Though the band shouts "F*ck you, Donald Trump!" nightly during their set, Armstrong stresses that he wants his show to be an escape from the outside world.
"I want people to have a really great experience away from the negative press and negative stuff that you see on the news and Facebook," he said. "I don't even like seeing people's cell phones. Let's have a human experience and rub up against each other, you know."
He also says that he feels like going super negative in front of the crowds only feeds into a sense of division that the president's administration has sewn.
"I feel like the government is trying to create a culture war between us in a lot of ways," he told the magazine. "They're trying to get between your average citizens based on red and blue… For me, it's important to get back to fundamentally what it feels like to be an American. We all come from different backgrounds, but we come together and create this world."
Unlike many on the left, however, Armstrong hasn't softened his stance on the Bush the Younger's presidency when faced with this new administration. In a sort of inverted version of that "give him a chance" bit, Armstrong said that he can't hate Trump as much as Bush because we still have no idea of the damage that his presidency could do.
"Bush, as far as I'm concerned, is a war criminal," he said. "With Trump, we have no idea. Right now it's just a freak show."
Check out the whole interview over at Rolling Stone and don't miss our look back at their debut with the people who made it happen.