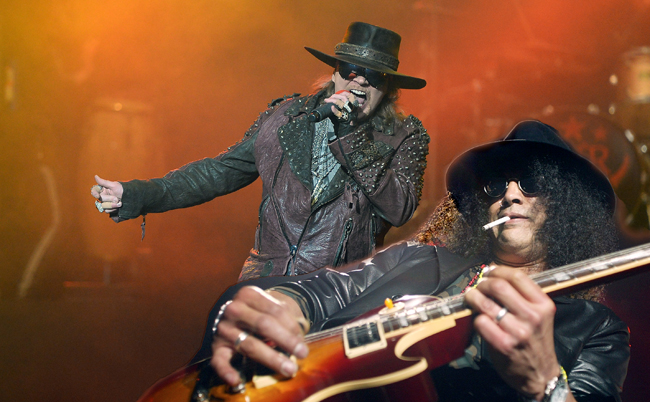 There have been countless rumors pointing towards a possible reunion of the original members of Guns N' Roses, including a nod from late Velvet Revolver front man Scott Weiland that seemed to indicate that it was a done deal. There has been no confirmation as of yet, but rumors are heating up due to an odd shift on the band's official web site:
According to Blabbermouth, the site was stripped of any of the more recent Guns' information and replaced by the classic logo. Consequence Of Sound notes that not only is this a look back to the past glory of the band, but the original logos and copyrights have long been a point of contention between Axl Rose and Slash. One would have to assume that their "reconciliation" helped lead to this in some form.
Another note of importance reported over at Blabbermouth is that the band recently parted ways with guitarist Ron "Bumblefoot" Thal after their second Las Vegas residency and guitarist DJ Ashba in July. Thal, in particular, had been with the band since 2006, so his departure certainly opens a path to a reunion (Thal reportedly quit to focus on his solo work).
Now the reason why this seems to be so interesting here at the close of the year is its proximity to the Coachella 2016 announcement in early January. According to Consequence of Sound, the festival would seem to be a highlight for any reunion tour:
GNR is fielding offers for a potential reunion tour, with Coachella among the band's biggest suitors. With Coachella's 2016 lineup announcement arriving sometime in January, it's appears GNR's own announcement could be just days away.
Nothing is confirmed as of right now, but it's hard to deny that all of the stars seem to be aligned for the band to return in some capacity. The remaining members of the current GnR lineup claim that something is in the works, but have stayed mum on details according to Gary Graff at WRIF.
So perhaps it is just a return for Slash to the band, maybe it's a few members returning for some sort of fusion version of GnR. Nobody knows but Axl Rose, it seems. Former members seem to want in, though. Former drummer Matt Sorum has noted his readiness to play drums alongside original drummer Steven Adler:
"If it's me on drums or Steven or whatever, if it happened, it'd be great, you know," he said. "I would actually say to them, 'Hey, bring both of us back,' you know. Let me play the other stuff. We'll have two drum kits. I don't care. If 'Appetite' ['For Destruction', the band's debut] sounds better with Steven playing it, have both guys up there. They can afford it."
Will it happen? Will it be at Coachella? And if it does happen, how long until the band implodes again? It would seem that the new year will hold the answer.
(Via Consequence of Sound / Blabbermouth / WRIF)
And for more on the possible Guns N' Roses reunion…