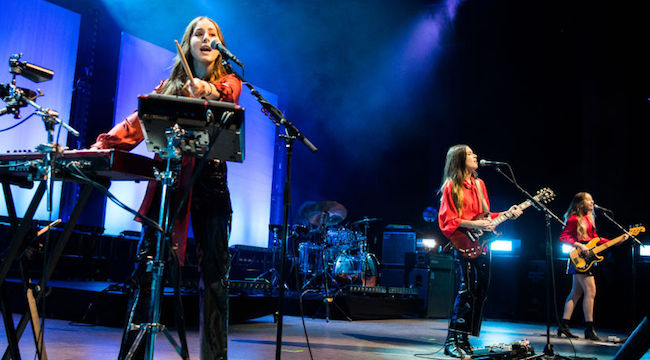 In a country where Christmas rules, Hanukkah often takes a back seat. Case in point: look at the sheer amount of Christmas songs that exist and that notable artists cover around the holidays. In terms of Hanukkah, there is Adam Sandler's classic comedic take, and not a whole lot beyond that. But the Haim sisters are looking to change all that with a new Hanukkah song that they unveiled on their Twitter earlier today. And, it's pretty great.
In a tweet that reads "first night of haimukkah ✡️ sandler we're coming for you," the short bit of a song manages to land a wealth of holiday references, including the Macabbees, potato latkas, Manischewitz wine, the Torah, and, of course, a menorah. The last of these becomes the refrain of the song, with Este and Alana Haim shouting out the chorus, "Light me up like a menorah" with even a perfectly tasteful bit of profanity thrown in. The pair are wrapped in Hanukkah color streamers, making for a fun and remarkably catchy little number. It might not replace Adam Sandler's song as the go-to holiday classic, but a properly recorded version would find success in its own right.
Give a listen to the Haim Hanukkah song up below.