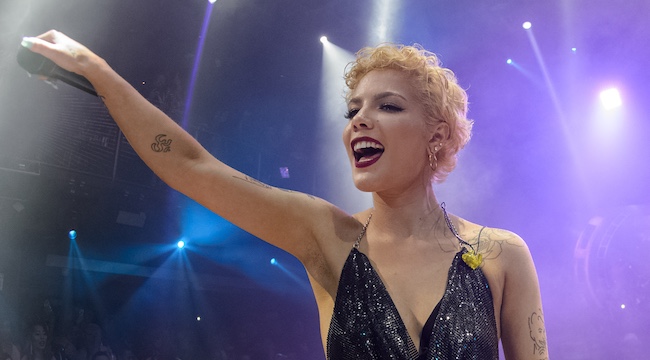 Now that we're at the start of 2018 and many of the major music have revealed their lineups, it's time for the backlash. The lineups are getting less and less diverse by the year, Louis Tomlinson wants to know why Coachella didn't book more actual bands, and now, Halsey thinks that the Firefly Music Festival could have done a better job representing the talented women of the music industry in its lineup.
Firefly shared its poster yesterday, and one thing that Halsey noticed about it is a notable lack of female acts on it. She took to Twitter with her reaction, writing, "Damn guys, come onnnnnn. Where the women at? This was one of my favorite festivals I've ever played, and it's a shame there's not more females on the bill. With the exception of (the amazing) SZA, the first like 20 acts on the bill are men. It's 2018, do better!"

Then, responding to a now-deleted tweet that told her to "chill out" and said there's "no need to go off on Firefly," Halsey wrote, "Who am I supposed to 'go off on?' Festivals ASK artists to play. Artists don't ASK festivals if they can come. I'm just raising a point! So many dope women in music right now!"
Halsey's initial point certainly seems to have legs: On the first five lines on the poster (or the first 22 acts listed), SZA is the only female, and of the top 50 acts, only 7 are female or have female members.