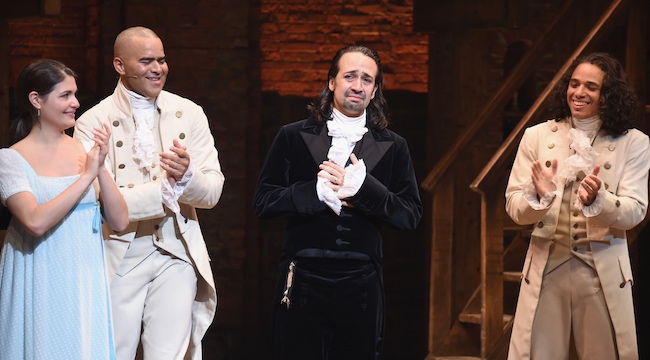 Lin-Manuel Miranda recently announced that he'd be taking record-breaking musical Hamilton on its first national tour later this year, but if you don't have the cash to shell out for the performance (or just don't want to leave your house), you sure are in luck! According to Vice, a user on the adult site Pornhub aptly named Broadwayf*cker has uploaded the show's entire first act for streaming, under the title "Revolutionary Twinks Have Historical Fun." No, this is not a joke, and no, I will not link to it in this post.
The almost 75-minute clip seems to have been shot from the balcony of the Richard Rogers theater in New York, and has been streamed over 5,000 times across its nine months on Pornhub. This is an utterly astounding length of time for a bootleg to remain online, especially of a musical in such high demand that people have nearly been sent to jail over a ticket scalping Ponzi scheme.
The realization of the Hamilton clip's existence comes after The Big Sick's Kumail Nanjiani took to Twitter over the holidays to let fans know that the hit movie was also streaming alongside legitimate pornography, in the "Interracial" section. You really can't make this stuff up.