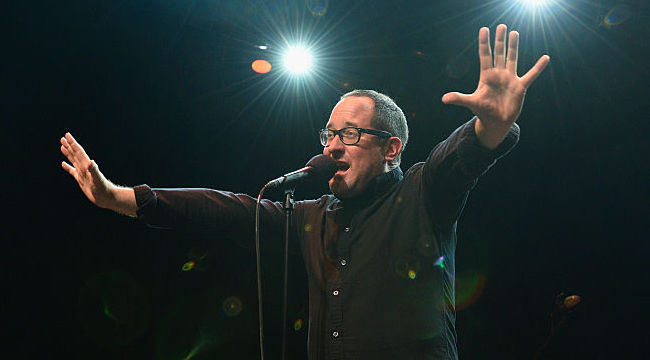 It's been nearly four years since the last album from The Hold Steady, 2014's Teeth Dreams. In the meantime, leader Craig Finn has been active as a solo artist, including the release of his best album yet under his own name, this year's We All Want The Same Things. But the band has recently taken a unique approach to their live shows, opting to perform in short residencies rather than extensive tours. The latest of these comes to the Brooklyn Bowl this week, and the band is celebrating by releasing a pair of new songs.
The two new tracks, "Entitlement Crew" and "A Snake In The Shower," show Finn continuing his hot streak. Both cuts sound like they would feel at home on one of the band's classic aughts albums, with Finn rattling of clever one-liners with the ease he was once known for. The A-side in particular, "Entitlement Crew," is an anthemic rager, achieving the "singalong song" status that Finn famously proclaimed his band. The line "tequila takeoff, Tecate landing" should be licensed by at least one booze company. Add to the equation some fluttering organ and a triumphant horn section, and you have a reminder of why we loved this band in the first place.
Give The Hold Steady's pair of new songs, "Entitlement Crew" and "A Snake In The Shower," a listen below.
[protected-iframe id="d61a71aeba0659089246f0568817dc58-60970621-76566046″ info="https://bandcamp.com/EmbeddedPlayer/album=1931264154/size=large/bgcol=ffffff/linkcol=0687f5/tracklist=false/artwork=small/transparent=true/" ]