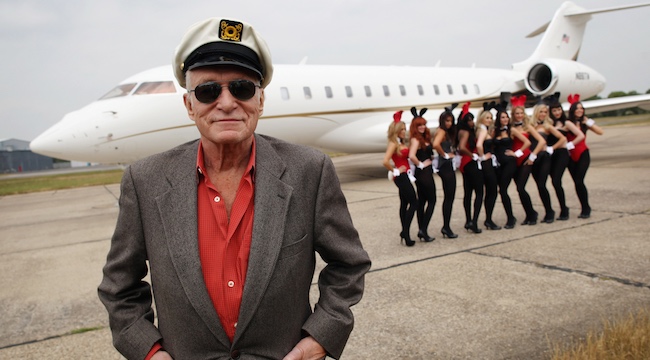 Hugh Hefner, who passed away yesterday at the age of 91, truly transcended his status as the founder of Playboy. For years, the media legend has been an icon who had his hands in many diverse endeavors, whether it was mixed martial arts or his short-lived variety show Playboy After Dark, which had a stellar lineup of musical guests that included James Brown, The Grateful Dead, Sammy Davis Jr., and others over its two-year run.
Music was always an important part of Hefner's life, so to celebrate what would end up being his final birthday on April 9th, he shared a 24-song playlist of his favorite all-time songs, to accompany the premiere of his Amazon documentary series, American Playboy: The Hugh Hefner Story.
The mix is made up of songs from earlier on in Hefner's life and includes acts like Frank Sinatra, Billie Holiday, Bing Crosby, and other legends from the mid-1900s. Hefner said that these songs were the "soundtrack of my life" and that they've brought him comfort throughout his adventures:
"My love of music, rooted in jazz and the popular music that grew from it, has enriched my life in ways beyond description. It is the music of my younger days that has resonated with me through a lifetime of celebrations, triumphs, and wonderfully romantic love affairs.

It is also the music that has comforted me in times of sorrow and darkness. The music I love remains the soundtrack of my life and continues to bring me joy, inspire me and most importantly, keep my heart open."
Stream the playlist above, and check out a clip of Marvin Gaye performing "Chained" on Playboy After Dark below.