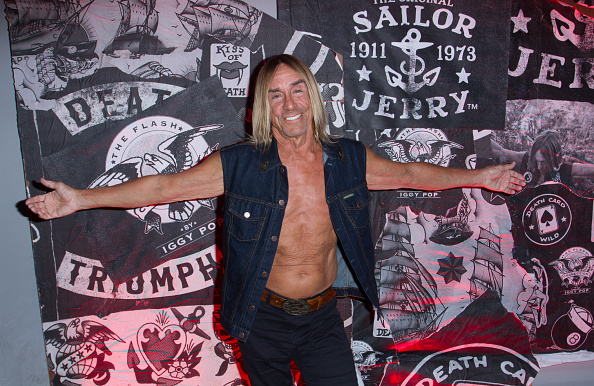 Punk rock legend Iggy Pop is 68 years old today. To celebrate, let's look back at some of the legendary showman's most raucous live performances. Pop is everything you want in a performer (and sometimes some of the things you may not want — the sight of Pop cutting himself all over with broken glass and knives on stages everywhere in the '70s could be a bit jarring). Frequently shirtless, always energetic, Pop epitomizes the spirit and attitude of rock and roll. In these five clips, we see him at his absolute best.
"T.V. Eye" (1970)
This performance from the Cincinnati Pop Festival in 1970 is essentially the blueprint for punk rock. A young Iggy screams this killer track from The Stooges' 1970 album Funhouse, and the crowd is mesmerized by the combination of rock 'n roll power and sneering attitude. This clip gives you a perfect idea of what an absolute force The Stooges were at inception. They were loud, angry and reckless, and couldn't care less about what you thought of them.
"Lust For Life" (1986)
Easily the most famous — and possibly best — song of Iggy Pop's solo career, "Lust For Life" is five minutes of absolute perfection, combining the spirit and attitude of punk with incredibly complex musicianship. At this 1986 show, Iggy gives a spirited performance of the legendary track. When he yells "I'm a worth a million in prizes!," you won't want to argue with him.
"Real Wild Child" (Live On Late Night With David Letterman  – 1986)
The extremely rare performance in which Iggy keeps his shirt on! Maybe security or the network censors had some problem with Iggy baring some skin, but no matter, because he gives a highly energetic performance of one of his rare crossover hits. My favorite part of this clip, though, is probably the very beginning, when Letterman notes that in the four years since Iggy's last appearance, Letterman hadn't met another person with the last name "Pop," or the first name "Iggy."
"Burning Up"/"Ray Of Light" (2008)
This amazing clip comes from Madonna's induction into the Rock & Roll Hall Of Fame in 2008. If Madonna's rock 'n roll cred was in question, Iggy vouches for her by making two of her bigger hits seem as punk rock as possible. He ends the set by thanking Madonna for making him feel "shiny and new … like a virgin." This performance is kind of hilarious, but it also seems to come out of a genuine respect for what Madonna has done.
"I Wanna Be Your Dog" (2010)
Finally, this excellent clip from the Sonisphere Festival in 2010 shows Iggy has lost none of his edge over the years. Forty-one years after recording "I Wanna Be Your Dog," he belts it out with the same sneer he had when he recorded it. The crowd is fully engaged, aware they are witnessing a rock legend who, after four decades in music, is inexplicably still at the peak of his powers.