Last week, I went to three different concerts and one music festival (which counts as about seven concerts). As a music journalist, a packed schedule like this one is not necessarily frequent, but also not totally unusual. Sometimes, if you have divergent enough taste in music, the number of bands coming through your city in a week create the kind of unmissable lineup that results in being out at a show more often than nights spent at home. That's just the job.
For this particular stretch of seven days, I was seeing British space-rockers Spiritualized come through on tour behind their first new material in six years, performing at the historic Orpheum Theatre downtown, the Arctic Monkeys performing at my favorite venue in the city, the untouchable Hollywood Bowl, and nü-R&B god Leon Bridges, performing at a private event for Hilton Honors members at the Waldorf Astoria in Beverly Hills. That weekend, I'd also help orchestrate coverage for the Gorillaz' fantastic new festival, Demon Dayz, which would be held for the second time ever — and for the first time in the US — out near Whittier, California.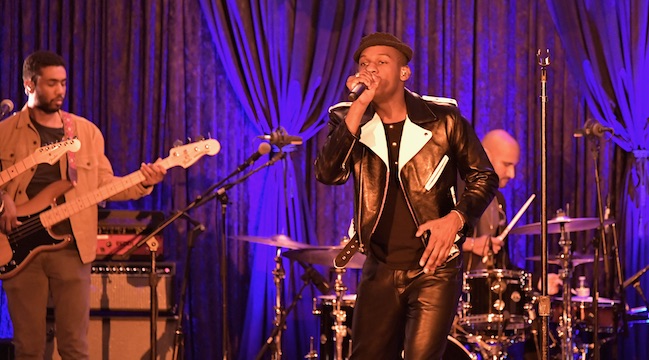 Normally, a schedule this crammed would have me achy and exhausted, depleted of energy and the will to live (I kid, I kid), but there was one unique thing about this week that made the grueling slate of shows worth it — every venue that week was a seated one, and even the festival provided a backstage/VIP area for press where I could watch the stage from a seated vantage if needed. While this kind of access is all but essential for music fans who are living with disability and other conditions that physically prevent them from standing for long periods of time, it's also a welcome respite for someone like me, who is all but guaranteed to be at least one show a week for work.
Even if the enduring cultural myth of the perfect rock show involves cramming in close to the stage, cavorting in a pit or thumping around in time with a bevy of fellow diehard fans, there is so much to be said for sitting quietly in a crowd of people who are equally awed by the magnificence of a live act like Spiritualized, for instance. It's actually easier to pay attention when your legs aren't going numb from standing through two opening bands before a beloved headliner or focusing on popping your knees so they don't lock and lead you to pass out before the main act even makes it on stage.
In the case of this most recent Spiritualized tour, Jason Pierce himself is sitting for the majority of the set, tucked off to one side of the stage in a simple folding chair, leaving plenty of space for the lights, band, and towering gospel choir to steal the show — even if all that staggering grandeur still can't quite eclipse his plaintive tenor voicing sweet, simple truths about the universe and the human heart.
Maybe it was at this show, which was packed to the gills with some of the cult band's biggest fans, that the bonus attention span of a seated venue clicked into place. There was no talking during or in between songs, no murmurs or rustling throughout the performance — every single person was laser-focused on that stage and soaking in every bit of the music emitting from it. That kind of focus just isn't possible when you're on your feet for two hours. Not to mention the sight lines were clear for everyone in the building; there was no jostling for position or jockeying closer to the stage when the band began to play, everyone was at peace with their spot instead of fighting for a better view.
And, the seated aspect is another reason why I'll go see almost any act when they're performing at the Hollywood Bowl. Aside from being unequivocally the best venue in LA (I am already convinced of this feeling as a fact), the venue offers bench seating all the way up to the top, and provides comfortable box seating closer to the stage. For events that are hosted by the home team — aka the Los Angeles Philharmonic Association — fans can bring in their own food and alcohol, and are encouraged to picnic and drink from their own stash throughout the show, or partake from the ample catering menu and hot food options.
While an Arctic Monkeys show at the venue last week was a lease event, and not hosted by the LA Philharmonic, there's still a sense of overwhelming hospitality at the Bowl that makes seeing a set there feel like coming home — and it's just that your favorite rock band and several thousand of their fans also happen to be there. But, perhaps the chance to see Leon Bridges in a room full of other people who knew they were enjoying a special, once-in-a-lifetime closeness to a full-fledged legend drove home the significance of vantage point and comfortability.
Perched on two tall cushion seats at the front of a small banquet hall, a friend and I were mere feet away from Bridges as he danced and sang his heart out, thanking Hilton Honors for allowing him and his band to perform for such an ecstatic — and at this point in his career tiny — crowd. By the end of that evening, even though Bridges performed a substantial set, and I was drinking multiple whiskey Old Fashioneds like it was a Friday and not a Thursday, I wasn't totally run down when I woke up the next day.
Instead, I was able to get out the festival that weekend and watch Dram, Erykah Badu, and the Gorillaz each smash a performance — all without resenting that I had to be there. Truly, watching music from a seated vantage is a thing more people should be thankful for, and more venues and bands should institute or request on tour. Implement this practice, and I can all but guarantee, even people who don't do this for a living will give thanks.