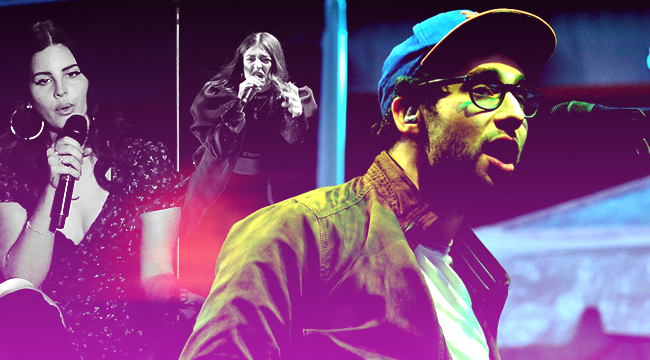 In the deep well of think pieces and profiles analyzing the omnipresence of Jack Antonoff in 2017 pop music, perhaps Stereogum's Chris DeVille hit the nail on the head best in his prophetic article title: "In The Future, All Albums Will Be Produced By Jack Antonoff."
It's a tongue-in-cheek reflection on what was a big year for the artist, the least significant of which seemed to be his own music in the form of Bleachers, which managed one quite-good-if-minor alt-rock hit, "Don't Take The Money." Antonoff had co-written and produced the majority of Lorde's beloved sophomore album, co-written a trio of St. Vincent's newest songs (including the two biggest hits from Masseduction) and in addition to album production credits, popped up with both writing and production credits for a solid half of Taylor Swift's Reputation as well as a bit of Pink's Beautiful Trauma.
It was a pretty remarkable run that Antonoff received more than enough credit for. In fact, some argued that he got too much credit for it. Although, it's not surprising that interviews with Antonoff were a way that many publications framed discussions about Lorde, Swift, or St. Vincent, as interviews with those artists are difficult to come by and a throughline between several key works is something too good to overlook for even the most creative editors. But it also emboldened an anti-Antonoff sentiment, that saw the New Jersey native inserted into narratives that could have been focusing more on the women at the center of the music. And for those that are already sick of his denim jackets and floppy ballcaps, 2018 is not offering much reprieve.
Over the last couple months, Antonoff has been surfacing more and more in the news. Following an Instagram Live that saw Lana Del Rey posting some video footage hanging with Antonoff on an ambiguous couch (recording studios have couches!), rumors were fanned by dapper-looking Insta photos of the two wearing matching suits.
At nearly the same time, Carly Rae Jepsen, who'd already worked with Antonoff on the Kiss B-side "Sweetie," posted an Instagram with less ambiguity – her and Antonoff clearly recording music together. Even in-flight movies weren't a safe place from Antonoff's reach, as Love, Simon (which, is basically required viewing on any flight lasting more than two hours) features a soundtrack curated by and featuring Antonoff throughout its narrative about a gay high school student wrestling with his closeted nature against the backdrop of his suburban upbringing. In many ways, Love, Simon feels like a movie for this particular moment in time, and Antonoff's '80's-inflected modern pop jubilance captures just that.
But with how successful Antonoff's career seems to be going, shade bubbling just below the surface of a Spin news post reveals how some in the media and public perceive him. "If you enjoy weirdly hit-free pop albums, last year was a huge one for both you and Jack Antonoff, who famously helmed large portions of new and pretty goodrecords [sic] by Taylor Swift, Lorde, and St. Vincent," wrote Jordan Sargent. "Will his reign of tastefully nostalgic if not exactly exciting competence ever end?"
The Lana photo was also met with its fair share of Twitter scoffing. A couple of stray tweets from Vulture's brilliant film critic Emily Yoshida weren't exactly that surprising for their content, but more for how enthusiastically they were received. Be it in articles or in passing social media dalliances, anti-Antonoff sentiment is a real thing, where someone like Yoshida views him as a "scam" or The Ringer's Lindsay Zoladz paints him as "building a public brand off 'Not Being That Creep'" in the wake of Dr. Luke and the #MeToo movement.
But here's the thing: it's totally okay to not appreciate the core of Antonoff's sound. It's something that's been evolving for the songwriter as he segued from pop-punk flirtations with Steel Train, Queen-esque stadium anthems with Fun, or as a more chameleonic pop songwriter and producer who fits into each of his client's needs. Sure, there are trademarks of his work which Yoshida's tweet describes, be it synth sounds or unnerving nostalgia, that make St. Vincent's Masseduction or Lorde's Melodrama Antonoff-ian, but you'd be lying if you said that these albums weren't first and foremost defined by the voices of their creators. Any claim that Jack Antonoff is making the artists he works with sound the same couldn't be further from the truth, and a big reason for that is that he often works with artists that always sound like themselves.
Antonoff criticism seemed to pop up most with regards to his work with St. Vincent, if only because the album was a bit of a departure for her and her fans can skew rockist in their makeup. The record was decidedly more pop (though, in her Pitchfork review, Katherine St. Asaph wisely notes "Masseduction isn't a pop album so much as a deeply, admittedly personal communique with a pop veneer"), and that was going to make some fans uneasy regardless of who collaborated with her on this shift. Blaming Antonoff for St. Vincent's most pop-oriented record yet is really just taking away the agency of her as an artist. And if we're to believe that the good parts of the artists he works with come from them and the bad parts come from their collaborators, well, that's a narrow, problematic, and ultimately sexist way to view pop production.
As for the knock on Antonoff's actual ability as a pop producer to helm pop success stories, the sample size is probably too small to really judge. Sure, Taylor Swift's Reputation sputtered out of the gate, but the Antonoff collaboration "Look What You Made Me Do" did hit No. 1 on the Billboard 200 and did become a cultural moment, a song that would soundtrack public moments from its release until infinity. And months into the album cycle, Swift's most divisive record of her career has made a resurgence, nearly back in the top 10 on the Billboard 200 at the time of writing this (while her non-Antonoff single "Delicate" makes a legitimate claim for Song Of the Summer).
St. Vincent has never been one to have radio hits, so it's not surprising that her Antonoff collaboration didn't breed pop success, but still, the Antonoff co-written "Los Ageless" was the first St. Vincent tune to get in serious rotation at even rock radio, cracking the top 10 at AAA and nearly the top 20 at Alt. The album, for its part, was her first ever top 10 on the Billboard 200.
Only Lorde, someone who's previously had a lot of success in terms of singles, seemed to stumble in this regard, but it's hard to really view that as a negative when you consider the acclaim that Melodrama received. In fact, her first single "Green Light" purposefully sidestepped the advice of Max Martin, with Lorde choosing deliberately to ignore his criticism of her "incorrect songwriting," and it eventually was named Song Of The Year by The Guardian and NME. Melodrama still got an Album Of The Year Grammy nomination, and even if the songs didn't really feel made for radio, her role as a festival headliner and critical darling only grew stronger. She came across like Adam Duritz having a conversation with "Mr. Jones" when she told The Guardian, "I want to be Leonard Cohen. I want to be Joni Mitchell." For an artist like Lorde, there are many metrics for success.
"One of Jack's many strengths is his ability to make people feel safe to go any place emotionally that they are scared to go," St. Vincent told WKQX when asked about what Antonoff brings to the table, before adding, "He's the ultimate cheerleader." In an interview with the New York Times, Antonoff called this process "excavating," working like a glorified therapy session, where if "someone could do it without me, then I don't want to be there."
It's the same method that helped Lorde on Melodrama. Speaking with Vanity Fair, she noted working with "Jack Antonoff opened me up to feeling a lot; he was the perfect person to help me do that." It's interesting that it's not how he makes records sound or how he helps with arrangements, melodies, or lyrics that his collaborators mention. It's how he empowers them to be what they perceive as "their best."
On that alone, it's understandable why more artists would want to get in on that, and why someone like Lana Del Rey would be so enthusiastic she'd shout about their professional linking from the proverbial rooftops of her mobile device. But make no mistake, these are artistic choices, and women deserve support in the decisions that they think bring out the best in their art, rather than the kind of second-guessing and hand-wringing that men of similar statures rarely are subjected to.
If it's a matter of the end result being subpar, then that is their burden to shoulder, and the result of their artistic choices. But their right to choose their collaborators, and to partner with the people that make them feel comfortable, is a defining trait of artistic independence. Female artists should be able to work with whomever they want and not be shamed for it, and that extends even to Jack Antonoff. There is no "scam" in that.