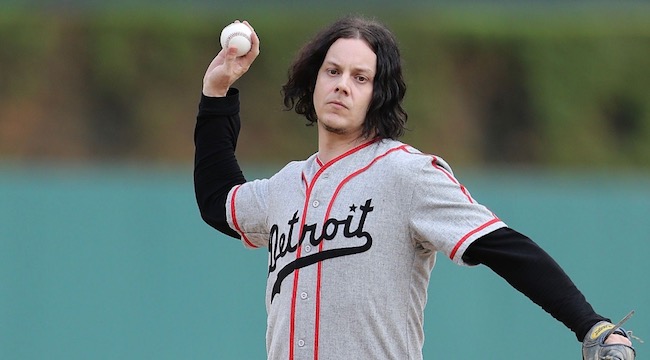 There are two things in this world that Jack White seems to love above everything else: vinyl records and baseball. Thus it was only a matter of time that he found a way to bring those two oldest America traditions together in some way shape or form. Today, the Third Man Record boss announced that he was going to release a brand new single from a group called the Dugouts titled "Strike Out." The only catch? If you want to own a copy of the seven-inch vinyl, you have to first buy this exclusive Detroit Tigers ticket package.
The Dugouts are a collection of Third Man Records signees that include Brendan Benson, Ben Blackwell, Dominic Davis and Olivia Jean. On the B-Side to "Strike Out" is an exclusive interview that White conducted with two-time World Series Champion Kirk Gibson. The record itself is printed in the Tigers signature blue and orange colors and some of the proceeds are going to benefit both the Kirk Gibson Foundation and The Detroit Tigers Foundation.
Of course, this is hardly the first time that Jack White has collaborated with the Tigers. Who could possibly forget the time a few years back in 2014 when he took the mound and threw out the first pitch at Comerica Park to a waiting Santa Claus. In case you've forgotten, you can relieve that singular moment below.