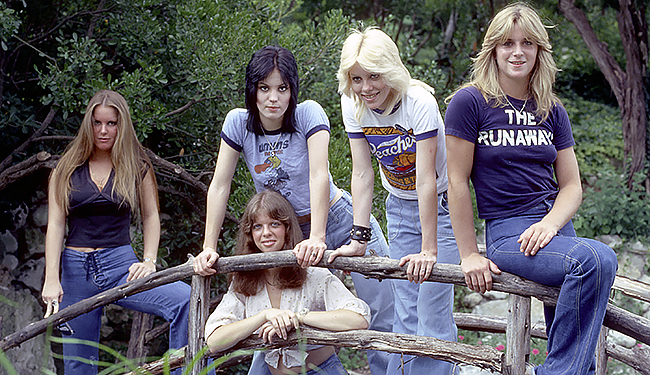 There's been major fallout after the huge bombshell that dropped last week, in which former Runaways bassist Jackie Fox claims she was raped at 16 by her manager Kim Fowley in the 1970s. The article that housed the revelation, from the Huffington Post, also stated her bandmates Joan Jett and Cherie Currie looked on while this happened, but felt powerless to do anything and did not act to help.
This revelation caused both women to release statements denying their alleged part in the story, with Jett saying she wasn't aware of the incident but "I wish [Fox] peace and healing." Currie, however, went on more of the offensive, saying it absolutely didn't happen, and she would take a polygraph to prove it.
With all of this in mind, Fox (whose real name is Jackie Fuchs) decided to respond to her former bandmates in a statement on Facebook. While thanking those who were supportive of her courage, like Jane Wiedlin and Kathy Valentine from The Go-Gos, Maureen Herman from Babes In Toyland, and numerous fans, she had a specific sentiment for Cherie Currie and Joan Jett:
"If I am disappointed in one thing, it is that the story has become about who knew what when and who did or didn't do what. That isn't the story at all. It would be nice if everyone who was there the night I was raped could talk about how it has affected them over the years. But if they don't want to talk it about, I respect that. It's taken me years to talk about it without shame. I can only imagine what it must have been like to have watched it happen.

I only wish that if my bandmates can't remember what happened that night – or if they just remember it differently – they would stick simply to saying that. By asserting that if they'd witnessed my rape, they'd have done something about it, they perpetuate the very myth I was trying to dispel when I decided to tell my story. Being a passive bystander is not a 'crime.' All of us have been passive bystanders at some point in our lives."
She also spoke to the high quality of interviews, background checking, and vetting the Huffington Post did to prevent another story like the Rolling Stone UVA case to leave "nothing to chance." Either way, while The Runaways have been embattled on and off with disagreements for years, hopefully this is something they can come together on eventually.
Read the full statement below:
(Via Facebook)