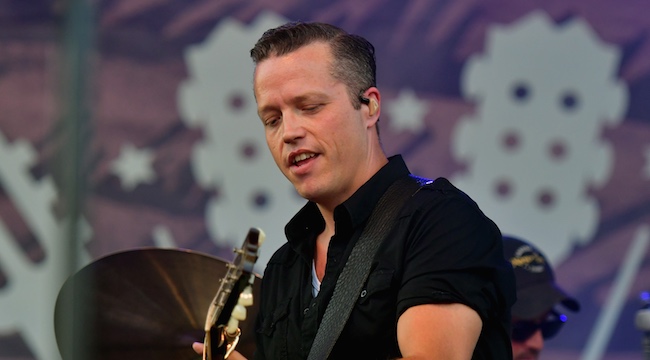 In a way, Jason Isbell sort of has two music careers going on at the same time, a situation that's perhaps similar to Neil Young's relationship with his occasional backing band, Crazy Horse: Isbell releases solo albums under his own name, but of the six records he's put out, three of them are credited to his band, Jason Isbell And The 400 Unit. That includes his most recent effort, 2017's The Nashville Sound, which is nominated for the Grammy for Best Americana Album (Isbell's "If We Were Vampires" is also nominated for Best American Roots Song).
That was his first album with The 400 Unit since 2011's Here We Rest, and now, he's announced that he's taking the band with him out on the road this spring, for about a month of shows in the southern United States. The string of dates begins in Georgia on mid-April before wrapping up in Alabama in mid-May. Tickets are set to go on sale on Friday, January 12th.
Check out the full list of dates below, and read our interview with Isbell here.
4/14 – Savannah, GA @ Savannah Music Festival
4/15 – Panama City, FL @ Marina Civic Center
4/17 – Clearwater, FL @ Ruth Eckerd Hall
4/18 – Orlando, FL @ Walt Disney Theater
4/20 – Greenville, SC @ Peace Center
4/21 – Charleston, SC @ Highwater Festival
4/22 – Chattanooga, TN @ Tivoli Theatre
4/24 – Amarillo, TX @ Amarillo Civic Center Auditorium
4/25 – Albuquerque, NM @ Popejoy Hall
4/26 – El Paso, TX @ The Plaza Theatre
4/28 – Indio, CA @ Stagecoach
4/30 – Midland, TX @ Wagner Noël Performing Arts Center
5/1 – San Antonio, TX @ Tobin Center for the Performing Arts
5/2 – Sugar Land, TX @ Smart Financial Centre
5/5 – El Dorado, AR @ Griffin Music Hall
5/6 – Montgomery, AL @ Montgomery Performing Arts Centre
5/8 – Knoxville, TN @ Tennessee Theatre
5/9 – Knoxville, TN @ Tennessee Theatre
5/10 – Huntsville, AL @ Huntsville Hospital Foundation Benefit Concert at Von Braun Center