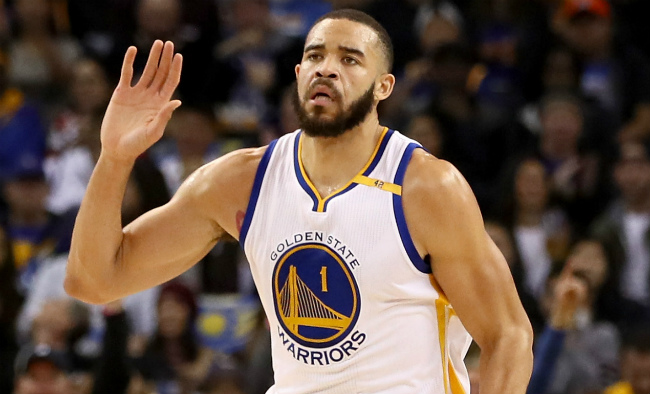 When words gets out that an NBA player is making music, it's fair to assume that they're trying their hand at rapping. That's the most common case, anyway: Damian Lillard has drawn the attention of some serious musicians, Joel Embiid is a big fan of Lonzo Ball's album, and Iman Shumpert's rap game is legitimate (and of course, he was in that Kanye West video). Golden State Warriors big man JaVale McGee is also into making hip-hop, but unlike most athletes, he's a producer instead of a rapper, and he knows what he's doing.
McGee, under the name Pierre, has been quietly uploading tracks he's produced to his Soundcloud page (it has under 300 followers as of this post), and now he's dropping a new self-titled album. The project premiered today on Billboard, and McGee said that the reaction to it has been positive so far:
"I feel like people don't really know that it's me and they think that I just funded it or something. I don't think people realize that I produce like 90 percent of all my music, except for the songs that I co-produce with people. That's really me going to the studio with the artists and all that stuff. Once they realize that they'll be a little bit more surprised — pleasantly surprised. […]

Every time I go to the studio with artists it's kind of hard to get past that facade of, 'Oh, he's just a basketball player.' I like to play the music and then they're usually like, 'Wow. I'm not gonna lie I thought I was just gonna come in here and hear some bullshit, but it's really some good music.'"
There's also the potential that McGee could find at least one high-profile collaborator at some point, since he says he and Diplo are tight: "I'm actually good friends with Diplo, and we've talked about collab'ing. I already know Diplo's schedule is crazy, so I don't want to be that guy who's like asking him to get in the studio all the time. […] I just know that it will happen eventually, but I'm not forcing it."
Listen to Pierre below.