There's a scene in The Wire during season one, where the cops finally get an important order they've been pestering their superiors and a judge to get through. When it finally happened, they were understandably giddy that their investigation could now move forward. As the judge is signing off on the required paperwork to approve it though, he quips at them "celebrities always seem much smaller when you meet them in person."
With much respect to The Wire, this phenomenon does not apply to Jay-Z.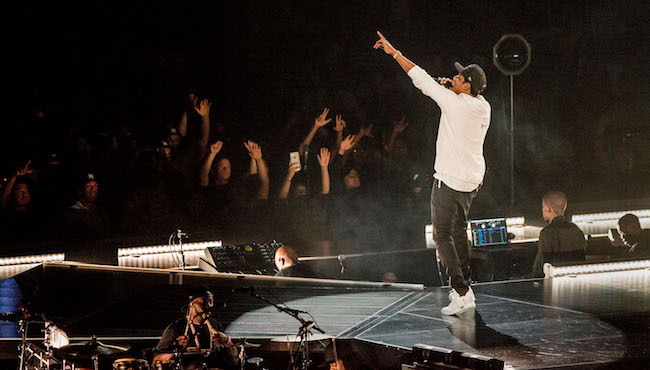 Over two decades, Jay has established himself as a larger-than-life presence and a seemingly unreachable goal for all of his predecessors. He's the top of the mountain, Billionaire Hov and the greatest of all-time. Simply put, Jay-Z is in a class of his own, and in person, Jay-Z seems massive as he towers over the entire moment. On Saturday night at The Oracle, that much was apparent as he glided on stage, bouncing through 90-minutes of nothing but hits, classics and emotionally wrenching cuts that all made for a perfectly structured and executed show.
My wife and I were set to watch the show from row six with a pair of tickets we scored less than 24 hours before the show. Whether it was due to his perceived struggle to sell tickets — for what it's worth, the show looked quite full — or some other quirk, we were eventually moved up from our seats, and gifted a new pair of seats in row three. The view was perfect, and so was the environment as clearly everybody was just as enamored with Jay and his material. When he finally made his way to what is most likely his quintessential track, The Black Album's "Public Service Announcement (Interlude)," the night had practically become a religious experience, and that moment was an awakening.
Jay never missed a beat, a syllable or a step. Even in an arena full of people, Jay managed to make the show feel intimate. The band is below the stage, unseen as he prances around plying his trade. The stage raises and angles itself into a smaller stage for his most personal tracks, including "4:44," which he called "the most uncomfortable song I've ever written." The screens that surround him play never-before-seen home video of him with his family, and when the stage lowers and opens up for everybody to see, he makes it a point to make eye contact with everybody near him, stopping to dance with some fans, pointing others out and even for the briefest of moments to make it seem like Jay-Z is your friend and you are his.
It's quite the magic trick by one of the most famous people on earth, and for that brief moment the judge from The Wire is right, Jay does seem smaller, and inherently human like the rest of us. But then he returns to his massive catalog of hits and he's no longer Shawn Carter the man, he's Jay-Z the deity again, larger than life and an unattainable presence that couldn't possibly be familiar. From five feet away, his mere existence is surreal, and unbelievable, but there he is, as human as ever.
Early in our relationship, my wife and I established some common ground when it came to music. It was a crucial connection, as something like that can end a relationship before it ever really starts. Long car rides with loud music became one of our happiest shared experiences, as we'd run through CDs basking in the music, or the conversation or both. Jay-Z was one of those connections, where we just understood the significance of him and his music, and in doing so gave him even greater significance. "Frontin" with Pharrell was a favorite, but so were so many others. Jay was a go-to for those rides, our special little getaways from the world, where we were lost in our own little moments and drowning in our music.
So, a rehash of those drives, five feet away from the actual Jay-Z was euphoric. There were no embraces, or public displays of affection or any of that, just the feeling of being next to that person, and the enveloping comfort of sharing another special moment with them that will be hard to forget. As we settled into family life, some of our best times involved us simply doing nothing, and mostly not saying much either, as after 12 years together we've all but run out of new stories to tell each other. In those times, quiet days on the couch watching Dateline or some old movie, it's that comfort that reminds me of just what we have in one another. It's that comfort that can be so motivating and so joyous. It's the comfort that, no matter what happens, or whatever is going on in life to bring us down, we have each other to lean on, and our babies and our little life.
It's always kind of hard to quantify love, or put the most complex emotion I've known in my life into simple words, but I guess that would be it.
So, after Jay rattled our souls for an hour and a half, and reminded me over and over of that comfort as I peeked to my left and saw my wife enjoying the show just as much as me — and remembering to record way more videos than me — it was over, and it was time to go home. "Worth every dollar," she said on our way up the stairs and out of The Oracle. She couldn't have been more right.
On the 90-minute drive from Oakland to Sacramento, it was time for another one of those special, quiet drives for us. We both missed our baby, and were ready for our bed and the sleep that would surely be heavenly after such a long day. The comfort of those drives and those moments was back, and the night and the journey were perfect. Not really because of Jay-Z — though he was incredible in every way — it was perfect because it was us, until the very end. Celebrities, big or small, can't really compare to the comfort of your own family. And on his "4:44" tour, that's kind of what Jay-Z has been telling us, too.