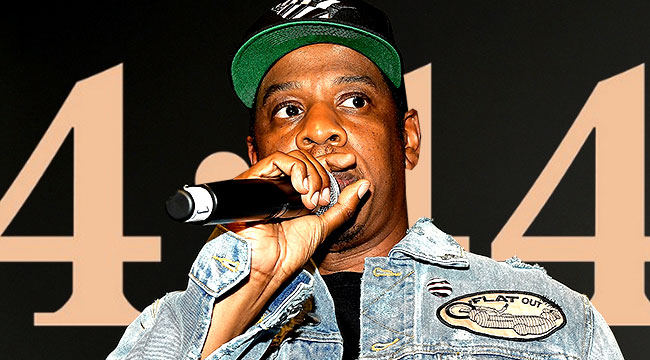 During Game 5 of the historic 2013 NBA Finals between the Miami Heat and the San Antonio Spurs, as the Spurs were set to take a 3-2 lead that had previously been insurmountable, Jay-Z's face appeared onscreen. It was a surprise announcement, Jay had a new album on the way, and by the looks of the commercial, Swizz Beatz, Timbaland, Pharrell, and the immortal Rick Rubin would be involved.
Magna Carta Holy Grail was his first album in four years, and it became a landmark moment in the industry when it was revealed that he was releasing the album in conjunction with Samsung through a unique deal in which he sold the company 1 million copies of the album for $5 a pop, ensuring he would go platinum before the album was even released. Jay had found a loophole in the system and turned a thing dwindling in worth — music — into a hard product that guaranteed a profit. Jay-Z, the hustler, had essentially reinvented the wheel for Jay-Z, the rapper, presenting an option for artists to utilize in a struggling industry, whereby they could sell their music — wholesale — before even releasing it to the public.
Jay pulled off a strikingly similar trick this year when he released 4:44 in similar fashion, complete with an NBA Finals commercial announcement and another million records sold before the album was even commercially available. Once again, he was maximizing the profits on a product that was long deemed unprofitable, but as it turns out, he may have just been masking his diminishing returns and declining relevance.
That slipping relevance, or at least the perception of it, reared its ugly head when reports broke that his much ballyhooed about 4:44 tour was struggling to sell tickets. Live Nation quickly jumped to douse the flames, claiming the scores of leftover tickets and low prices on the secondary market were all a part of their master plan to beat scalpers and get tickets into the hands of fans.
If that explained the tickets going for less than $10 on StubHub and SeatGeek, it didn't explain the remaining tickets on multiple stops of the tour, some almost as much as half the arena, still available through the primary ticketing agencies. If the plan was to get those tickets into the hands of real fans, why weren't those fans buying them, and was this the first chink in the Jay-Z aura of invincibility?
Yes, Jay's touring has mostly been prepaid just like his album, by way of a massive $200 million deal with Live Nation, practically ensuring that he would net nine figures for his concerts for the next decade. The argument for the strategy is that his presence demands that type of payout, however, he's not filling the seats or getting Live Nation a full return on their investment, even if they are profiting from the rearranged ticketing system. In order to maximize their profits they have to want sellouts, so every dollar possible can be collected. What's slowly becoming apparent is Jay has spent the last decade finding new ways to continue to solidify and protect his reputation as rap's biggest giant and unquestioned king, but he hasn't been living up to that perception.
Sure, Live Nation and Jay-Z have assured themselves profits in their joint endeavor, but empty seats will go a long way towards cracking the seemingly indestructible veneer surrounding Jay, who's been considered the undisputed top of the rap mountain for nearly two decades running. The reality is, Jay-Z probably isn't "big" enough at the moment to fill up 30 arenas in two months like his successors Drake and Kendrick Lamar, but this truth has been masked by the fact that his last two tours were stadium tours buoyed by megastars Justin Timberlake and Beyonce.
So, what is the issue for Jay-Z? Has he lost touch with the current crop of fans in the industry as he nears 50? Probably not, but even his 4:44 album sales were masked by his convoluted tactics. The album was only available on Tidal its first week, deflating the sales numbers when it hit other retailers, and giving a lower tally a built-in excuse. The 262,000 copies moved after the final tally — though impressive — fell behind Drake and Kendrick's massive totals for their albums this year, as each makes their bids for the throne Jay has so comfortably rested upon for years.
Many of these decisions are shrewd business decisions, and shrewd business decisions are par for the course for Jay-Z. He's maximized his worth in music, releasing material sparingly and securing profits before he can even compile losses. He's found a way to game the system, as just about every other musician has struggled to maintain their status quo by releasing singles upon singles looking to goose album sales because $10 for an album is more than $0 for a stream and album sales will always be the most efficient way to recoup costs and actually profit from making music.
If Jay's dwindling ticket sales are a mark of an industry trend, or even a genre trend, it remains to be seen. Lil Uzi Vert recently canceled a tour under mysterious circumstances, while Kanye West's Pablo tour disintegrated publicly due to his meltdown and hospitalization, but there were murmurs of low ticket sales persisted even before Kanye's episode in Sacramento. They all appear to be isolated incidents, not the death of the arena tour or the traveling rap act, but if rap's first touring rock star is struggling to sell tickets, then who knows?
What is clear is that Jay-Z has accounted for falling into third place — or even further down the ladder — by locking up first-place payouts for both his music and his touring through unprecedented means. Even if he is "behind" Drake and Kendrick, he seems to be the only one locking in deals like the ones with Live Nation, Samsung, and Tidal, which just might be a sign that he's still number one, and at least rewrites the narrative to give the perception that he remains the king, no matter how successful the young upstarts behind him are.
In rap, and in music in general, Jay-Z is one of the most proven and solidified brands in existence, a sure bet to have a No. 1 album whenever he comes out, and a recognizable name to nearly everybody with eyes and ears. Jay is Coca-Cola in a world full of Pepsis and knockoff soda, just striving to be what he already is. And sure, Pepsi is good, and might have snazzier commercials, but like the incomparable Walter White once proved, nobody really wants to live in a world without Coca-Cola.