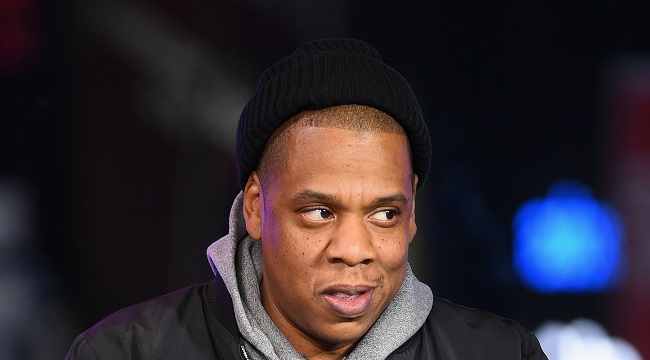 Apparently a Jay-Z album is such a sure thing that we're now holding plaque presentations before the album even drops. That sounds like a hyperbolic line Jay would use to affirm his supremacy, but it actually happened with 4:44. Jay was so confident that the combination of Tidal streams and downloads from his Sprint deal would push him past the million mark that he had a plaque made and took a photo with RIAA CEO Cary Sherman a whole week ago, well before the album's June 30th release.
As much as people loved 4:44, some were a bit skeptical about how the album could be certified platinum at 10 AM after a long holiday weekend. Variety reported that yesterday's early morning press release announcing the million mark didn't contain any specifics on how many sales, streams, or downloads 4:44 did, but the outlet did contend that the Sprint downloads alone got the album to platinum.
Perhaps after the success of Magna Carta Holy Grail in 2013, which achieved platinum status in 72 hours thanks to Samsung purchasing a million downloads, Jay was confident that he had the mechanisms in place to get 4:44 to platinum in no time. MHCG had the RIAA reshift their rules, allowing digital albums to be considered platinum on their release date. Now with 4:44, the RIAA is apparently hitting him up early. What's better than one instant platinum album? Two.