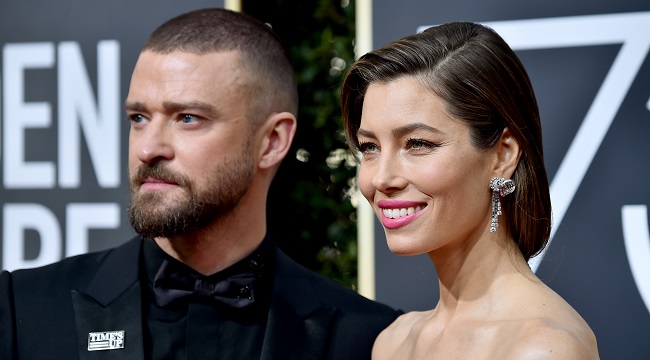 Yesterday (January 7), while on their way to the Golden Globes, Justin Timberlake posted a half-adorable, half embarrassing video of him and first-time nominee Jessica Biel hyping themselves up to "Filthy." We figure Biel knows all the words because she is his wife. But as they hinted on the Globes red carpet, there may be another reason why she knows "Filthy" so well.
When you roll in with a 2-time nominee… @JessicaBiel #GoldenGlobes #Filthy pic.twitter.com/iIPvAmRcqM

— Justin Timberlake (@jtimberlake) January 7, 2018
"Wait, is that you that we hear a little bit on the album?" Entertainment Tonight's Nancy O'Dell asked Biel. She was talking about how, at the end of "Filthy," the beat stops and an unidentified woman says, "Can you find me? Look closer, through the trees." (Remember, Timberlake is a Man Of The Woods now.)
"I'm letting him answer this one," Biel said. "I don't want to get in trouble. I have a big mouth. I don't get to have any of the songs. I have none of the album just in case something happens. I don't want to be the one responsible for getting it leaked if it's on my phone."
Her husband was an even worse liar. "It may or may not be my wife. … Probably, a little bit, maybe she is," Timberlake said.
We already knew that Biel played a crucial role in Man Of The Woods, out February 2. "This album is really inspired by my son, my wife, my family, but more so than any other album, where I'm from," Timberlake says in the trailer, to footage of rolling hills, snowy woods, corn fields and a marsh (the trees come later). But now we know that she is featured alongside Timbaland, the Neptunes, Danja, Alicia Keys and Chris Stapleton. Watch the couple tell all below.
.@JTimberlake teases that his wife @JessicaBiel is "probably, a little bit, maybe" featured on his new album! #GoldenGlobes #ETGlobes pic.twitter.com/baPEpwTnmL

— EntertainmentTonight (@etnow) January 8, 2018