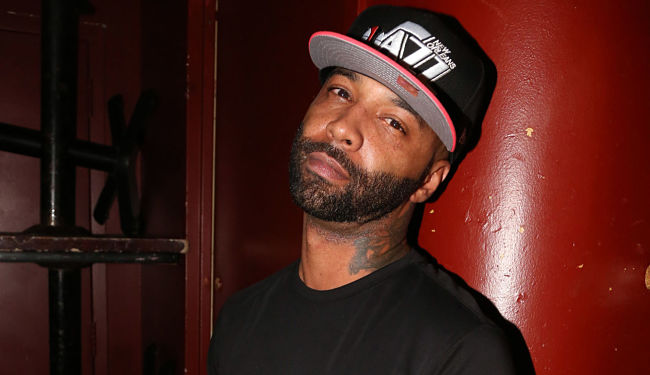 Fans of Slaughterhouse, the wait for a follow-up to the group's 2012 album just become increasingly more excruciating, courtesy of Joe Budden. On the latest episode of his podcast, the one-quarter of Slaughter let fans in on the fact that the group has a complete album recorded. It just won't be released any time soon.
Budden tipped fans off to the "breaking news" by saying he's been listening to "the new Detox, which is the Slaughterhouse album cause that album's never seeing the light of day" around the 58-minute mark. He continued, "For all of you people who keep wanting a music update, here it is: that Slaughterhouse project, you're not getting it. Sorry."
Since Welcome to: Our House released four years ago, fans have been waiting on a proper release from the group, composed of Budden, Joell Ortiz, Royce Da 5'9″ and Crooked I. Each member has delivered on solo projects in the time between and, while that's well and good, people still like the sound of all four artists running roughshod on beats together as one. Their last collective body of work was the House Rules tape from May 2014.
He goes on to pour salt in the wound by describing how lyrically potent the project is. "It's some shit on there," he said. "Unfortunately, the best Joell verse that I have ever heard in my entire life is on this album that y'all are never gonna hear. That's f*cked up."
Unlike other situations when albums get shelved, there is no label red tape or anything of that sort holding back the release of the project. Budden said they material they recorded then is reflects a different reality from where they are right now. "The entire group was in such a dark space when we recorded all of that music," he said. "It's a very dark, depressing…I don't even want to hear any of that shit. I don't even rap like that, I don't want to rap like that. We would have to record all new verses to put that album out."
While talking about Royce's recent run of freestyles, which are absolutely bananas FYI, Budden also mentioned how the music as a whole has gone through a shift over the past few years. "Rap is not in right now," he said.
Budden's obviously entitled to his opinion. But, fans will probably disagree regarding that last remark and the want for new material from the group.
Check out the podcast below.