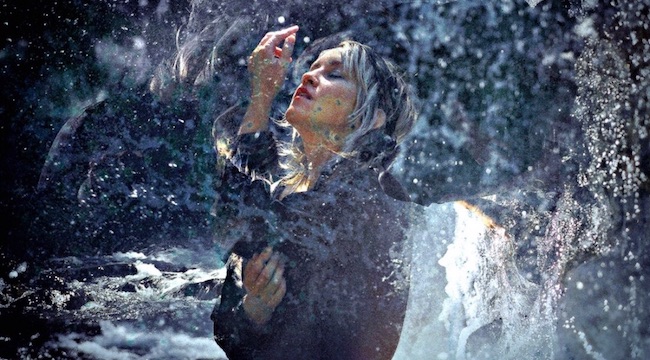 Johanna Warren has created a universe she wants to share with all of us. Earlier this year, Warren released Gemini ii, a mystical meditation on a relationship that she told us ran the gamut of spiritual experiences. In her own words: "…we both experienced the most beautiful, mind-blowing, paradigm-shifting stuff together, and the worst human suffering, off-the-charts abuse… It was a lot of everything. But I got a couple albums out of it."
Gemini ii was no doubt one of those albums, and her new single from "Cleansed By Fire" is a hypnotic healing session that exists in its own little world. A world Warren seems eager to share.
In her video, we get tiny, disconnected vignettes of what appear to be two people in a relationship with some sort of crystal-based magick on the beach, and a fuzzy slow-motion party in the soft orange light. There doesn't seem to be a linear story so much as fragments of feelings scattered throughout the infinite cosmos of our everyday loves and lives.
All of this semi-narrative is intercut with soothing clips of Warren herself, eyes closed, clearly enraptured by the lulling drone of the slow-motion acoustic guitar, as she dances into and against the waves of the ocean. The synthesis of the video and the song together have an alluring, almost magical feeling to them. Maybe this song and video are a spell. Or perhaps this is simply the version of the universe Warren herself experiences and the version she wishes to share with us.