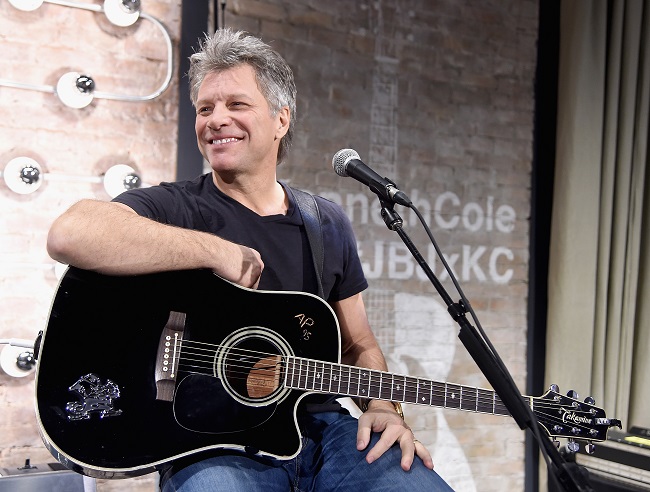 Kanye West snagged his from the School of the Art Institute of Chicago. Common received one from Winston-Salem State University in North Carolina. What did these two rappers get, exactly? Honorary degrees from the institutions named in return for presiding over their respective graduation ceremonies. But they're not the only all-star musicians to do so, for New Jersey's own Jon Bon Jovi will soon be the proud owner of a degree from Rutgers University.
As THR points out, several major actors, musicians, and celebrities are getting fancy new diplomas this year, and the Bon Jovi frontman is one of them. Rutgers made the announcement back in April:
During its regularly scheduled meeting in Newark, the Rutgers Board of Governors today approved Rutgers University–Camden's recommendation to present honorary degrees to Jon Bon Jovi and Bryan Stevenson at the Rutgers University–Camden Convocation and Graduate Commencement ceremony.
Stevenson is a prominent civil rights lawyer and the founder of the Equal Justice Initiative. His TED talk about injustice made waves when it first hit the Internet three years ago, and the man's done some really good work. But Bon Jovi? Why is the musician who tried acting in Vampires: Los Muertos getting an honorary doctorate from Rutgers? Here's why:
In 2011, Bon Jovi opened the JBJ Soul Kitchen, a community restaurant in Red Bank, N.J., where patrons either pay a minimum donation or volunteer in exchange for their meals. In February 2015, the foundation provided financial backing for a second community restaurant, Spoon Full of Hope, in Superstorm Sandy-ravaged Union Beach, N.J.
Good on you, Bon Jovi. I look forward to your wonder pairing with Stevenson at the Rutgers commencement ceremony on Thursday, May 21.