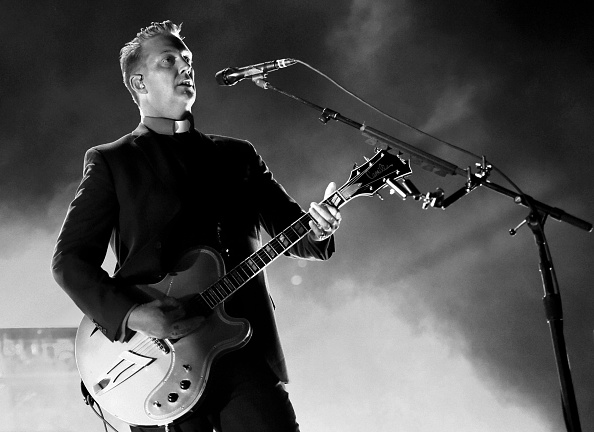 Josh Homme is 42 years old today, so this seems like a good time to consider just how important he's been to rock music throughout his career. The dude has been making albums for 25 years now (he got off to an early start), and as a member of various bands (seriously, he's right up there with Jack White on the "how many bands is this guy in??!!" scale), he's left an undeniable imprint on the genres of hard rock and metal.
Before finding fame as the front-man of Queens of the Stone Age, Homme started as the guitarist for Kyuss, a highly influential band known for its blend of hardcore punk and stoner metal. From 1991 to 1995, they released four albums. While they did not receive much mainstream attention during their initial run, they've proven themselves to be one of the most influential metal bands of their era. In 2002, Spin named their 1992 album Blues For The Red Sun the 36th greatest metal album of all-time. Plus, they had a song called "Thong Song" eight years before Sisqo. Talk about innovative!
Three years after the breakup of Kyuss, Homme helped form Queens of the Stone Age. While their self-titled debut was certainly encouraging, the band truly came into their own with their second effort, 2000's Rated R. This is a slight oversimplification, but this album is sort of like a concept album about drugs. The cleverly titled opener "Feel Good Hit of the Summer" starts things out on a rather, um, blunt note with its memorable chant of "NICOTINE VALIUM VICODIN MARIJUANA ECSTACY AND ALCOHOL!" which proves to be a fitting description for the rest of the album, as tracks like "Monsters in the Parasol" and "Better Living Through Chemistry" continue that theme.
Their next album, 2002's Songs for the Deaf, would introduce Queens to more mainstream audiences, mostly due to the massive hit "No One Knows," easily the most famous song in their catalogs. Their mainstream success would continue with 2005's Lullabies To Paralyze, which gave us the hits "Little Sister" and "In My Head."
What's important to understand about Queens' popularity is that it came in an era when radio rock had turned into unrecognizable sludge thanks to the "post-grunge" movement. Clones of Nickelback abounded on mainstream rock radio (as they sadly still do today), so when one of these stations played a Queens track, it was a glorious respite from the endless stream of songs that sounded identical to "How You Remind Me."
After 2007's Era Vulgaris, we would not see another Queens album for six years, but that didn't mean Homme wasn't busy. During that break, he formed Them Crooked Vultures with John Paul Jones and Dave Grohl, who went back behind the drums, as he had done on Songs For The Deaf. Their self-titled album was notable for breaking the usual stereotype about supergroups — that they are often lesser than the sum of their parts. Let's be honest: supergroups are rarely as good in practice as they seem in theory. Except for Them Crooked Vultures.
When we finally got a new QOTSA record with 2013's …Like Clockwork, it was clear the band had lost nothing in their time away from the spotlight. It was their most focused and consistent effort since Rated R. Yes, Homme had done some great work during his break from Queens, but it was great to see him back with his main act, still making exciting, innovative music.
Josh Homme is an important figure in rock history, and all of this is why. He's the rare vital, original rocker who actually gets attention from mainstream rock radio these days. He makes weird music that shouldn't be popular, and yet it is. He's a throwback to a day that many fear has long past. Things that seem like they shouldn't work, somehow do when Homme is behind him. With Kyuss, he helped pioneer a genre, and time has looked back on that music as influential and important. With Queens of the Stone Age, Homme has proven, somehow, that it's still possible to be mainstream while not at all conforming to whatever cookie-cutter concepts define the mainstream at that moment. With Them Crooked Vultures, Homme proved that supergroups can be exciting, vital, and, well, super.
That Homme's been able to make brilliant music for nearly 25 years now is pretty amazing. That he's gotten an increasingly narrow-minded music scene to pay attention is nothing short of stunning.