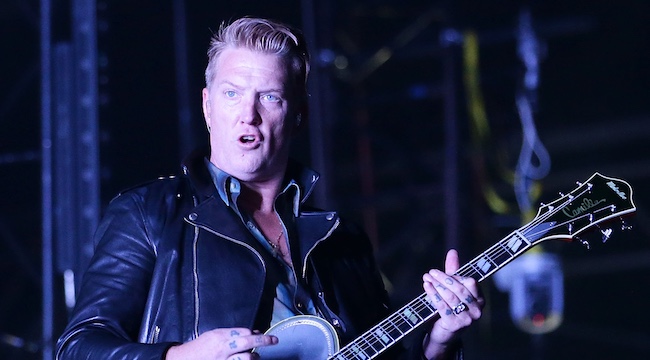 Perhaps more so than at any point in the band's history, Josh Homme and Queens Of The Stone Age have worn their influences on their sleeves while hyping their upcoming seventh album Villains; Homme previously cited acts as disparate as Cab Calloway, Tupac, and Bruno Mars as people they thought about while making the record.
In a new interview, Homme says he used to avoid even coming close to sounding like anybody else, and although he's beyond worrying about that sort of thing nowadays, he blames the legal drama surrounding "a**hole" Robin Thicke's "Blurred Lines" for making it tough to showcase an influence on a song without questions of copyright infringement coming into play:
"It used to be, if anything had any hint of anybody else, I wouldn't play it. Now, I don't worry about things, even though copyright law is really f**ked up right now because of that dumb s**t Robin Thicke. What a douchebag. Talk about thick. Now the copyright law is like, 'If it tastes like chicken, I guess you stole it.' Thanks, a**hole."
It certainly seems to be true that the "Blurred Lines" saga opened the lawsuit floodgates: Since then, Led Zeppelin, Beyonce, Bruno Mars and Mark Ronson, and others have had to lawyer up and deal with legal action against their music for similar reasons.
Read the rest of the Josh Homme interview here, during which he also talks about firing his "best friend in the world" bassist Nick
 Oliveri from the group, and Queens Of The Stone Age being "the perfect band for that time when [rock is] over."