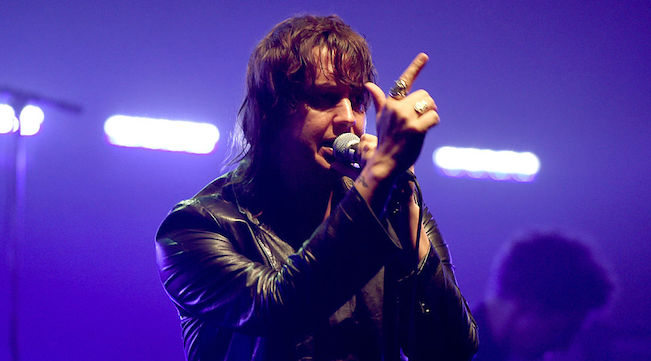 One of the most talked about parts of Lizzy Goodman's 2017 book Meet Me In The Bathroom delved into the relationship between The Strokes and Ryan Adams in the early 2000s. Within the oral history, Adams is blamed for The Strokes' Albert Hammond Jr.'s heroin use, with Hammond claiming Casablancas threatened to beat Adams up because of it. Casablancas is quoted in the book as saying, "Did I specifically tell Ryan to stay away from Albert? I can't remember the details, to be honest. I think heroin just kind of crosses a line. It can take a person's soul away. So it's like if someone is trying to give your friend a lobotomy — you're gonna step in."
Shortly after the book's release, Adams went on a (now deleted) Tweet rampage, criticizing Hammond's songwriting and asking the now legendary question, "Who got you strung out on lasagna tho?" Promoting his new album from The Voidz, Casablancas addressed the feud with Matt Wilkinson on Beats 1 (via NME), opting not to further fan the flames.
"I think that there was a lot of not insiders, talking as insiders," Casablancas said on the show. "They didn't interview my wife who was basically The Strokes co-manager for 10 years. They didn't even interview her and they interviewed other people. I'm just not super down with the book."
Casablancas added:
"And also even the Ryan Adams thing, I mean I might have been the one that did it so I don't know, because you just speak in an interview, but I just feel like I wouldn't blame him for anything anyone else did. I'm just not into things, throwing people under the bus for any reason or…You know what man, let people enjoy it – I shouldn't be involved, I don't care to be honest."
So while Casablancas doesn't really appreciate the book and doesn't think he would throw Adams under the bus, he's also not really too worried about Adams' online aggression. "I'm sure I'll run into him," he said. "The whole feud thing – I'm so not into that. You know if you want to say something to someone's face that's different, I just don't even pay attention to be honest."
All in all, it's a mature reaction to some pretty harsh online harassment, and might be the olive branch to reestablishing a friendship.