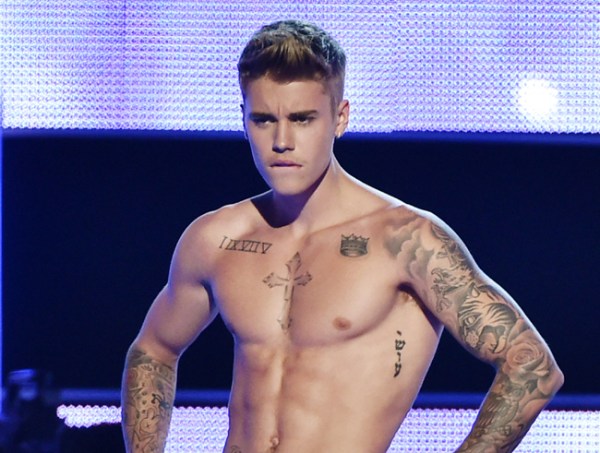 Today, the world learned something very strange and exciting: Justin Bieber, former teen sensation and current media punching bag, has a dick. Not only does he have a dick, though,—that we might have suspected!—but his dick, if Twitter is to be believed, is actually pretty good. And while none of us here would be so uncouth as to comment on The Bieb's genitalia, social media is in an uproar over the pictures. Some people are pretty upset that Bieber's dick pic has been posted online and are demanding privacy for the superstar who, just last week, released a list of rules for taking pictures of him. Some people are happily discussing how impressed they are with its size (one person accidentally sent the pics to her mom) and at least one person is photoshopping Bieber into outfits to restore him to his previous state as a nonsexual being, even though stories about how much Justin Bieber bangs are all over the news. Even his personal trainer's got something to say about that peen:
And to make up it, here's a new quote from Justin's trainer Patrick Nilsson, who says JB is packing. "I can definitely confirm that he is a well-endowed guy. I sound weird saying that, but yes."
Anyway, if you haven't seen the picture, it's not hard to find (here's a censored version)…but I promise you the reactions are better:
https://twitter.com/MaddieEckardt/status/651930801299439616
Finding that one of my own friends—someone I actually know— was listed in the "top tweets" about this groundbreaking cultural phenomenon, I decided to ask her about her reaction to Bieber's wangle:
Some fans, unfortunately, are not taking the incident in stride:
This is probably the best reaction, though:
Good news for fans: Justin Bieber seems to be doing fine. The pop star was seen outside earlier today. If you or someone you know, however, isn't doing as well as they could be with the news that the singer most likely to be mistaken for Kate Gosselin due to his haircut is "packing," here's a helpful guide on how to talk to others during this difficult time.