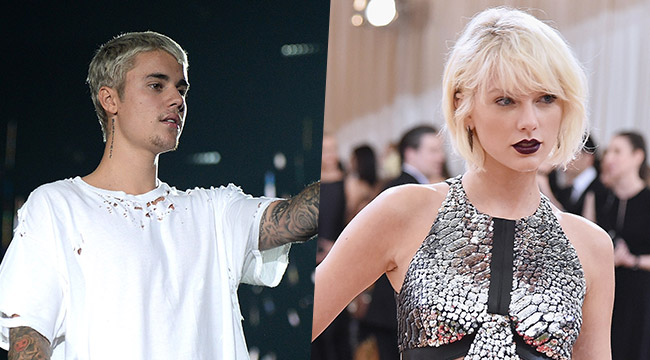 Justin Bieber made it clear who his allegiance lies with in the never-ending celebrity squabble between Taylor Swift and Kanye West. The pop singer shared a photo on his Instagram early Tuesday morning that showed him FaceTiming with West and a caption that included the not-so subtle dig "Taylor Swift what up."
Of course, this all comes after Kim Kardashian recently shared the Snapchat receipts exposing to the world that Swift knew all along that West planned to mention her by name on his The Life of Pablo track "Famous." The pop princess fired back at what she called a "character assassination" where she's "being falsely painted as a liar." But since there are claims she knew about the recorded call, her protestations appear a little wobbly.
It's not surprising to see Bieber side with West, since the two have worked together. He's just one more person, celeb or otherwise, who's piling on with the hate now. Bieber's caption ended up morphing into the trending hashtag #TaylorSwiftWhatUp shortly after, with fans jumping into the fray to share their opinions, memes, and more.