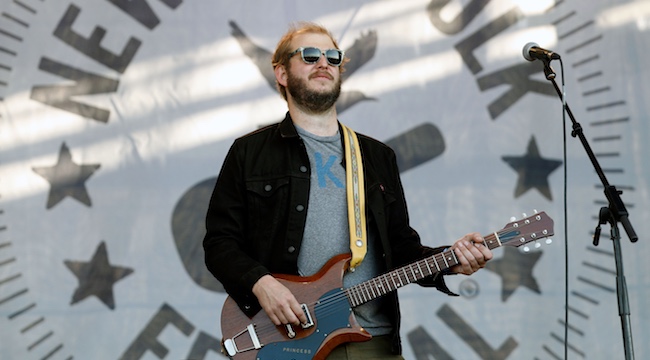 In 2015, Bon Iver's Justin Vernon and The National's Aaron Dessner (who recently teamed up for an album as Big Red Machine, by the way) organized and hosted the first Eaux Claires Music & Arts Festival in Eau Claire, Wisconsin. Since then, the event has brought some top-tier performers to the area, including Paul Simon, Chance The Rapper, Wilco, Feist, Sufjan Stevens, Erykah Badu, and plenty more. However, there's some bad news for fans who were looking forward to the 2019 installment: The festival's organizers just shared a note in which they announce that the event has been canceled for 2019.
In the note, the experience of organizing the festival is compared to going through high school, and they say that some desired changes will necessitate an off year: "After our Senior year, we find ourselves wanting to move out, change things, and take stock of who we've become. In order to manage this transition, we are going to take a year off. While it will be hard for us to break the chain of momentum and the positive impact the festival has had on our community, we have fresh, clear ideas of how to make it even better."
Fortunately, the note is explicit about the fact that the event isn't done for good, as it reads (emphasis theirs), "It will happen in 2020, and it will be more focused, fun, and internal."
Read the full note below.
As winter deepens here in Eau Claire, WI, we at Eaux Claires wanted to reach out before it gets too cold and update you to the many conversations that we have had over the past couple of months.

In the last four years we have grown together as patrons and organizers; these experiences are perfectly focused within our own collected memories, and feel something like going through four years of high school — the growth, the mistakes, the energy, but most of all the searing, stumbling beauty of becoming one's self.

After our Senior year, we find ourselves wanting to move out, change things, and take stock of who we've become. In order to manage this transition, we are going to take a year off. While it will be hard for us to break the chain of momentum and the positive impact the festival has had on our community, we have fresh, clear ideas of how to make it even better. But we aren't just changing locations, we're bolstering our philosophies. We want to celebrate EVEN MORE about this REAL TOWN we call home by extolling and imagining things we haven't seen or experienced to date.

Ultimately, we want a better experience – not just for us, but for everyone. Is that too vague? We're not trying to do that anymore, so here…

No Eaux Claires V in 2019. It will happen in 2020, and it will be more focused, fun, and internal. We will have a couple of public events in the coming months hosted at Pablo Center at the Confluence. These events will incorporate performance and dialogue about the direction we plan on taking the festival throughout the coming decade. Looking forward to seeing you there.

-EXC Founders and Organizers