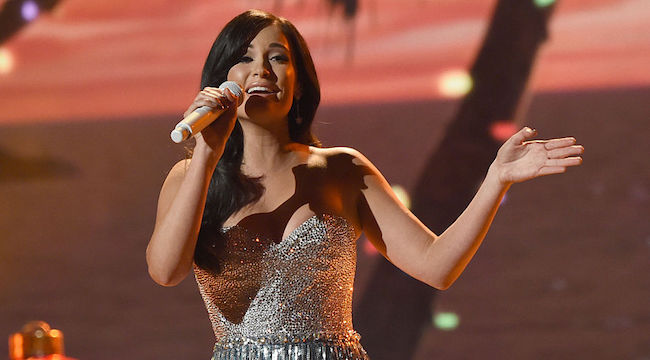 Over her still relatively fresh career, Kacey Musgraves has had no problem accumulating accolades, including a pair of Grammy awards and an ACM for Album Of The Year. But maybe more impressive is what she has been accomplishing on an artistic level, marrying the appeal of mainstream country with a particularly youthful, funny, clever, and idiosyncratic point of view. In a genre that isn't always known for rewarding those that challenge the status quo, Musgraves has somehow managed to have the best of both worlds, contributing greatly to her crossover potential.
Her story will continue on March 30th with the release of her fourth career album, Golden Hour, on MCA Nashville. Musgraves wrote and produced the album with the help of Ian Fitchuk and Daniel Tashian. She is calling the release her most intimate album yet, adding in a press release that "I had a different mindset this time, which was feeling rather than thinking – leading heart first."
That writing style is on display on a pair of new tracks, both of which diehards will already be familiar with, as she has been performing them in concert for a little bit. "Butterflies" is a woozy bit of romance about the uneasiness that love can cause, punctuated by a playful horn section. "Space Cowboy," on the other hand, is more of a ballad, using some particularly country tropes (horses, pickup trucks, sunsets) and a play on the titular phrase that seems destined for massive success.


Check out the tracklist for Golden Hour below. Kacey will be on tour supporting Harry Styles this summer.
1. "Slow Burn"
2. "Lonely Weekend"
3. "Butterflies"
4. "Oh, What a World"
5. "Mother"
6. "Love Is a Wild Thing"
7. "Space Cowboy"
8. "Happy & Sad"
9. "Velvet Elvis"
10. "Wonder Woman"
11. "High Horse"
12. "Golden Hour"
13. "Rainbow"