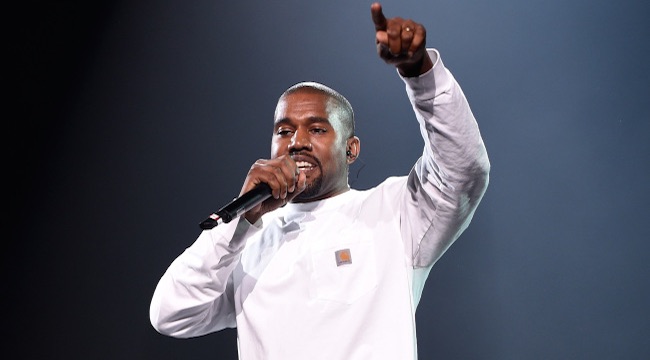 Kanye West's The Life Of Pablo was a stunningly multifaceted project and experiment not just in sharing music, but also in design and performance as well. Kanye updated the stream from platform to platform, while making tweaks in real time (a practice which has landed him in some legal hot water), but that didn't prevent it from becoming the first all-streaming album to be certified platinum, or from selling out arenas on the accompanying Life Of Pablo Tour.
Now, the tour merchandise from Life Of Pablo has been nominated for London's Design Museum's Beazley Design Of The Year award, which seeks to honor the world's best designs in six separate categories: architecture, digital, graphics, fashion, product and transport. The Design Museum expanded on the nomination on their website, writing:
"From August 19th — 21st, 2016, Kanye West in partnership with Bravado, opened 21 pop-up shops in various locations around the world to sell products tied to West's latest album, The Life Of Pablo. This was the first simultaneous, global pop-up event, spanning the U.S, Europe, Africa, Australia and Asia. Each temporary store carried a broad line of Kanye's Pablo merchandise as well as limited edition designs exclusive to that city. The venues were announced 24 hours before they opened in each city, with the British pop-up located in Old Street."
Tour merchandise ranged from the customary concert T-shirts, emblazoned with "Pablo" in gold Gothic lettering to vintage army jackets with the same. Kanye's Yeezy clothing brand also takes some of the same design cues, embracing the olive drab color scheme from army jacket, and loose fit of the tees to form a unique look instantly recognizable as Kanye's signature style.