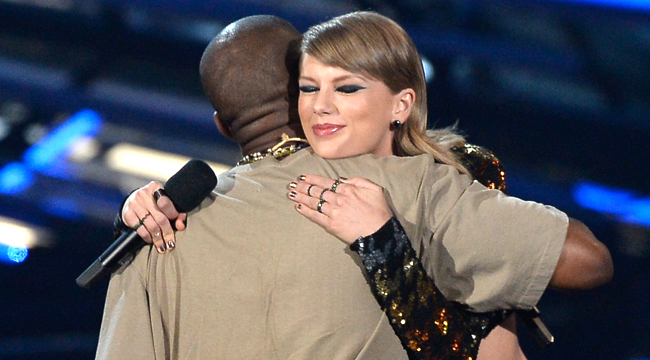 Taylor Swift showed off a special delivery on Twitter, which just happens to be a gift from her new BFF, Kayne West. The suspected reason for this newfound bestie relationship — which would otherwise be unexpected — is that perhaps Kanye feels a debt to Swift after his long winded VMAs speech, during which he threatened promised to run for president.
Taylor kept a good sense of humor while introducing Kanye's 12-minute acceptance speech, and she publicly forgave him for interrupting her own speech upon their first meeting: "I'm really happy for you and Imma let you finish, but Kanye has had one of the greatest careers of all time." She perfectly mimed his way of speaking and stoked his ego just enough that Kanye must have felt grateful. He still ranted for 12 minutes (and inadvertently shaded her just a tiny bit in the process), but he and Taylor are on the best of possible terms.
As such, covert farter Taylor made sure to show off her Kanye flowers with a caption that read, "Awww Kanye sent me the coolest flowers!! #KanTay2020 #BFFs."
Is that a nod to a possible West-Swift ticket for the Oval Office? Taylor could never play second fiddle, not even to Kanye. Here's one more thing. Those flowers may have originated from the giant rose wall that Kanye built for his wife, Kim Kardashian, for Mother's Day 2014.

Maybe Kanye simply likes sending white flowers? Shhhhh.