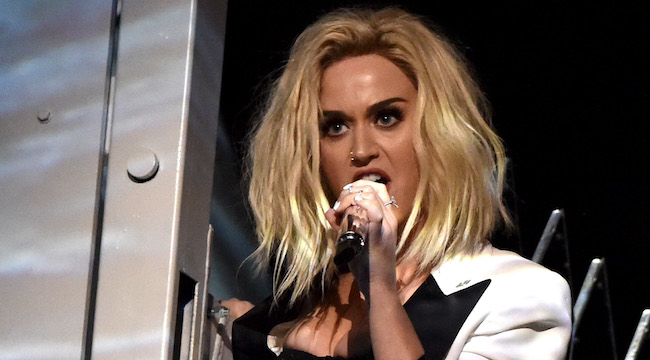 Katy Perry was in a giving mood Monday morning when she revealed the David Bowie-channeling album artwork for her latest project. She also unveiled the title of the album, Witness, along with its release date: June 9. On top of that, she threw out the news that she'll be going on tour starting in September.
And if all that album news isn't enough to get any Katy fan in a tizzy, remember that we're also getting her new song, "Witness" (which we now know to be the title track), later today.
Perry unleashed the news this morning in an Instagram video filled with footage from her Prismatic World Tour, funnily enough. Although her recent "Chained To The Rhythm" makes an appearance later in the clip, it's mostly filled with KP greatest hits, ensuring that even if you're not a fan of her latest tracks ("Bon Appétit" elicited quite the reaction), there will be plenty of Katy classics played at the upcoming shows.
Over on the singer's website, she showed off the Witness album art, which has Katy looking like an updated Ziggy Stardust… or just someone who got carried away with the eye shadow. The photo ties in well with Perry's futuristic video for "Chained To The Rhythm," which had her pondering the marvels of materialism and capitalism in a dystopian theme park.
Here's a teaser of Katy's new song:
As for the tour, that baby will kick off this fall and journey well into 2018. Those who purchase tickets to Witness: The Tour, will receive a copy of the album. Tickets will be donated Boys & Girls Clubs of America members and volunteers. Additionally, fans can earn free tickets by joining Global Citizen and taking action to support Boys & Girls Clubs of America. $1 per every ticket sold will also be donated to Boys & Girls Clubs of America. Full dates are on her site.