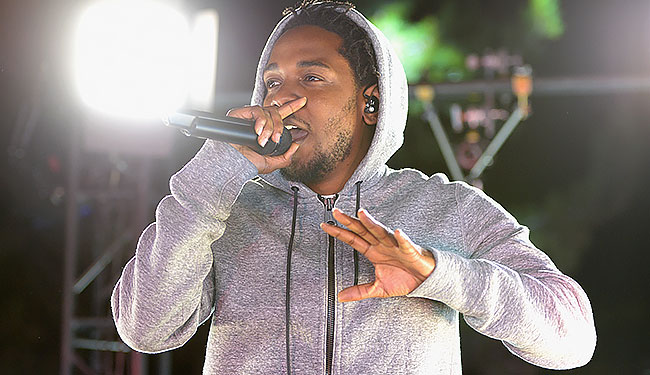 Top Dawg Entertainment, best known as TDE, has come a long way since its founding in 2004. Now one of, if not the top, record labels in hip-hop, the West Coast-based group consisting of Kendrick Lamar, Ab-Soul, Jay Rock, Schoolboy Q, Isaiah Rashad, and singer SZA have created staples — even classics — in modern hip-hop.
It's no secret that Lamar's work, particularly over the past three years, has been the driving force behind TDE's rise. He's risen from underground sensation to the most acclaimed rapper in the game, with this year's To Pimp A Butterfly being one of the most musically impressive and vibrant albums of the year. Many wondered how Kendrick would follow his breakout classic good kid, m.A.A.d city, and he responded with a piece of work in To Pimp A Butterfly that established his place among rap royalty.
In celebration of K.Dot's 28th birthday, we decided to rank his 25 best tracks.
25. "I Am (Interlude)," Kendrick Lamar EP
This spoken-word verse is the defining moment when little K.Dot evolved into Kendrick Lamar. He often recited lines from this verse/poem in his live sets ("Words like a sword in the hands of a Spartan marching on Rosecrans in Compton"), speaking to the impact this interlude had on Lamar's mindset as he moved into adulthood.
24. "u," To Pimp A Butterfly
The most depressing song Kendrick has publicly released. From not reaching his pregnant teenage sister with his music to not visiting his friend before dying during surgery, this is an incredibly blunt, self-critical track in which Kendrick reveals thoughts of suicide. Known for his purity when it comes to using substances, Kendrick inserts a backdrop of bottles clanging behind cracking bars of depression to ruin just about any mood you can be in.
23. "Ronald Reagan Era," Section.80
This anthem of generational pride is this high on the list simply because of the introductory verse from Ash Riser.
22. "Hood Politics," To Pimp A Butterfly
This is the most old-school, boom-bap song on To Pimp A Butterfly, as close to getting into a Compton barber shop as most of us are going to get. Kendrick throws out a particularly awesome line about Killer Mike needing to go platinum, as well as drawing comparisons to gangs and politics (DemoCRIPS and ReBLOODlicans).
21. "Look Out For Detox," self-released
Give this track a listen in case you ever doubted Kendrick's ability to ride a beat, Eminem style. Kendrick snaps so hard on this track Iggy Azalea can't even keep up.
20. "Keisha's Song (Her Pain)," Section.80
What made Section.80 so unique was how it addressed a subject seldom discussed in a genre fueled by testosterone: women's rights. "Keisha's Song (Her Pain)" underlined the message of the album, telling the tale of a prostitute's death—a character that would later be brought up again on good kid, m.A.A.d city's "Sing About Me, I'm Dying of Thirst."
19. "Cartoons and Cereal," self-released
Kendrick has an arsenal of singles without albums attached to them, and "Cartoons and Cereal" is the cream of the crop. This is a hard-hitting, grim tale of trying to live a normal childhood being surrounded by constant violence and crime.
18. "For Free? (Interlude)," To Pimp A Butterfly
At first listen, this track sounds like leftover nonsense, but Kendrick is taking on some deep-rooted race issues ("Oh, America, you a bad bitch / picked cotton and made you rich."), all in front of a jazz number with flow to knock your socks off.
17. "Alright," To Pimp A Butterfly
The true brilliance of "Alright" is its placement within To Pimp A Butterfly. After hearing the dark, dense "u," the listener is immediately brought back to life with "Alright." While certainly a feel-good track, it reminds us of how bad things once were, with lines such as "looking at the world like where do we go, at the preacher's door, knees get weak, gun might blow." But, hey. We gon' be alright.
16. "Wesley's Theory," To Pimp A Butterfly
In front of a groovy instrumental from Flying Lotus, Kendrick gives a unique perspective of the dangers of fame, bringing up the irony of Wesley Snipes' escaping the streets only to wind up in jail for a white-collar crime like tax evasion, as he was never taught how to handle money or success.
15. "Swimming Pools," good kid, m.A.A.d. city
On the surface, this is another trap-style club song; in reality, this is a first-person account of Kendrick's early encounters with alcohol, slipping in and out of consciousness to fight the temptations he has been surrounded with since youth.
14. "i," To Pimp A Butterfly
This song may have earned Kendrick his first Grammy award (and, according to himself, is the best song he ever wrote), but its reception was not nearly as welcoming from hip-hop's underground. This upbeat single, which rides an Isley Brothers sample, is an anthem of self-love with lyrics that are much darker than the production would suggest, with Kendrick revealing bouts with depression.
13. "m.A.A.d city (feat. MC Eiht)," good kid, m.A.A.d city
This song represents the peak of turmoil in young Kendrick's life, as his cracking voice (playing the character of his younger self) takes us through everything from police brutality to struggling to pay bills. Local legend MC Eiht takes over after a mid-song beat switch to add even more Compton flavor.
12. "The Blacker the Berry," To Pimp A Butterfly
Not only does this track hit hard with some '90s-style boom-bap production and a killer hook from Assassin, it delivers a great twist on a controversial, relevant topic. After spending the last two and a half verses boasting of his racial pride, Kendrick flips the tables and suggests and element of hypocrisy in the outrage over the Trayvon Martin's death.
11. "Mortal Man," To Pimp A Butterfly
Few hip-hop albums ever ended as dramatically as "Mortal Man" ends To Pimp A Butterfly. After discussing the possible downfall of his own stardom for the track's first half, Kendrick reads a poem to none other than Tupac. You'd swear they were in the same room together and had been friends for 10 years.
10. "Momma," To Pimp A Butterfly
Behind a great, unique beat from up-and-coming producer Knxwledge, Kendrick goes deep into self-realization, starting as a selfish know-it-all before coming home to learn life lessons from, well, Momma Lamar.
9. "The Art of Peer Pressure," good kid, m.A.A.d. city
Good kid, m.A.A.d city is a tale of a young man growing up in Compton, but this is a song anyone who has ever compromised themselves for the sake of fitting in — in Kendrick's case, robbing a house — can relate to.
8. "Backseat Freestyle," good kid, m.A.A.d. city
This heavy-bass banger track sounds great in the whip. Out of context, it reeks of an out-of-character sellout single. But when placed within the context of the album, this care-free anthem is Kendrick playing a preteen version of himself, rapping with his homies in the backseat of a van in Compton.
7. "Rigamortis," Section.80
This song is known by most for Kendrick's relentless, progressively fast flow, but there are great undertones in the lyrics as well. "Rigor mortis" is a chemical reaction in the body during decomposition after death, a theme Kendrick uses to draw parallels between what he'll do to the rap game before its "gorgeous" death.
6. "These Walls (feat. Bilal, Anna Wise & Thundercat)," To Pimp A Butterfly
This classic, sexy '70s vibe track from To Pimp A Butterfly would be tremendous based on the Bilal-led hook alone. What makes this a classic track in Kendrick's arsenal is the incredibly creative correlation he makes between the "walls" of a female and the "walls" of a prison: Kendrick is taking revenge on the man who killed his friend from "Sing About Me" on his "baby momma." A lyrically brilliant, angry message of revenge (comparing the female to a pink apartment without a tenant) masked as a harmless love song.
5. "Bitch, Don't Kill My Vibe,"good kid, m.A.A.d. city
These words are more than just a song title. "Bitch, Don't Kill My Vibe" has become a rallying cry of its own. Behind a soothing guitar that can calm any mood, Kendrick displays tremendous flow between his classic, nasal hook, touching on his new status as a hip-hop luminary relative to those trying to reel him back in or — for lack of a better term — kill his vibe.
4. "Sing About Me, I'm Dying of Thirst," good kid, m.A.A.d. city
Tracks like these are what started the comparisons between Kendrick and Nas. This 12-minute opus speaks on Kendrick witnessing his friend being killed, but the story is told in an incredibly creative way. He's speaking to this now-deceased friend as Keisha's (from "Keisha's Song" on Section.80) brother, questioning Kendrick's decision to tell this personal story in song and actually profit off it. The song changes key halfway through, with a chilling choir of vocals (almost as if he was in a church) questioning his life direction between seeking religion as a savior, or "dying of thirst" for holy water.
3. "HiiiPower," Section.80
Of all of the music J. Cole has put his name behind, the beat he put on the closing track of 2011's Section.80 may be his best work to date. A beautiful, powerful message of empowerment against the powers that be was Kendrick's best work before he dropped GKMC.
2. "Money Trees (feat. Jay Rock)," good kid, m.A.A.d. city
GKMC has its share of hits, but one of its deeper cuts stands out from the rest. To be frank, Kendrick is not blowing anyone away with edgy bars or a powerful flow. Instead, behind an eerie wind instrumental, Kendrick perfectly captures the concept of feeling rich without actually being rich. This song, topped off with one of Jay Rock's best verses to date, coined the famous "Ya Bish" phrase.
1. "King Kunta," To Pimp A Butterfly
"King Kunta" has only been out for a few months, but the song embodies everything that makes Kendrick Lamar, well, Kendrick Lamar. Behind a relentless DJ Quik-inspired beat, the song is dripping with subtle references to old-school black culture. From the nod to James Brown ("I can dig rappin'!") to the Kunta Kinte references, this is an anthem of empowerment that has become an instant classic.