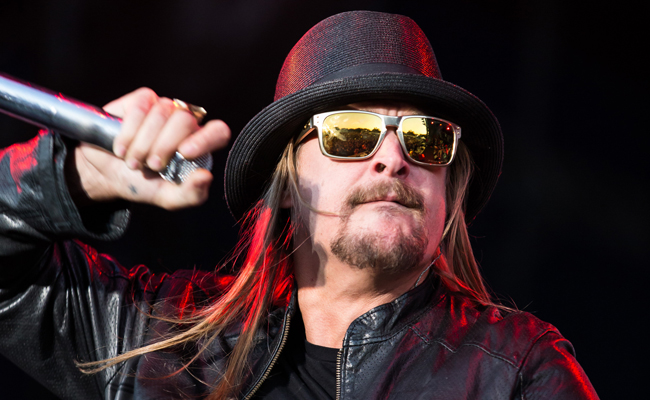 Kid Rock's life is like a beer commercial mixed with the fake trailer where a Marine fights some sort of molten dragon-monster that practically vomits patriotism. He's made so much money that he doesn't have to worry about pleasing the masses. He's in it for his fans and his fans only, which is pretty awesome, actually! Assuming you like his music, which, [radio edit].
Rock will take the songs on the road to amphitheaters this summer: "I'm the Jimmy Buffett with hair who swears." He'll help fans save their beer money by holding prices down to $20 a ticket, like he did last time out. "I'm going to ride that into the sunset," says Rock. "The only obstacle is Ticketmaster adds an extra $5. F*ckin' whores." At this point, Rock knows who his audience is: "45-50-year-old girls wearing extra-large T-shirts — they're my bread and butter. They know how to f*cking party — 'I don't give a f*ck, I'm making a T-shirt and putting sequins on it. I'm saving my money for beer and having a good time.'" (Via)
That comes from Rolling Stone's new profile on the former Robert James Ritchie, who loves the critically adored Radiohead and Beyoncé about as much as he does Ticketmaster.
He won't play Europe…but he will play SeaWorld. His fans love it when he shouts things like "F*ck Radiohead" onstage or attacks mainstream pop. He's "flabbergasted" by Beyoncé worship. "Beyoncé, to me, doesn't have a f*cking 'Purple Rain,' but she's the biggest thing on Earth. How can you be that big without at least one 'Sweet Home Alabama' or 'Old Time Rock & Roll'? People are like, 'Beyoncé's hot. Got a nice f*cking ass.' I'm like, 'Cool, I like skinny white chicks with big tits.' Doesn't really f*cking do much for me." (Via)
Rock also shared the story of how he became famous. After his first couple of albums, including Grits Sandwiches for Breakfast and The Polyfuze Method, flopped, he "showed up at the MTV Beach House in Jersey on the remote chance he could get on TV." Sugar Ray had to cancel, so Rock "got on camera as a DJ." Soon after, "Bawitdaba" became a music video mainstay, Devil Without a Cause sold 11 million copies in the U.S. alone, and Rock and Joe C. were in that one terrible episode of The Simpsons. And it's all thanks to Sugar Ray bailing.
Via Rolling Stone