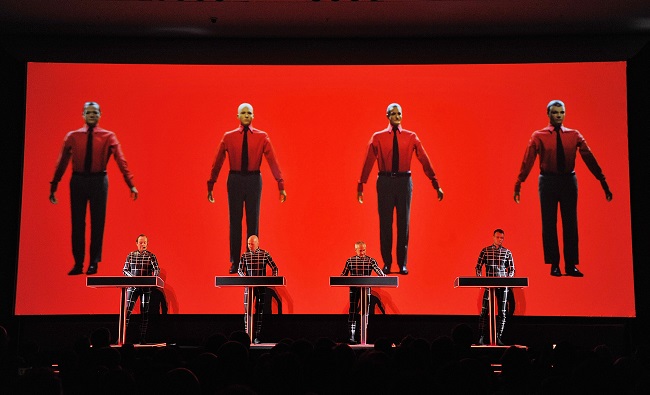 Concerts get cancelled all the time for any number of reasons. Travel delays, illness and even structural issues can derail a long-planned show at any time. But the reasoning behind Kraftwerk's scrapping of their Buenos Aires show has to be one of the strangest we've ever seen. The electronic music legends are being forced to cancel their November 23 show in the Argentinian capital because of a city-wide ban on synthesizer-based performances.
The city's ban — enacted earlier this year — outlaws any performance by a band that uses "synthesizers or samplers as their primary instrument." According to the Argentine newspaper Clarin, the group was initially permitted to sell tickets to the event and only informed two weeks ago that they would not be able to perform.
The strange ban was instituted after five festivalgoers died of drug overdoses at the Buenos Aires-offshoot of the German electronic music festival Time Warp in April. Though Kraftwerk's all-ages 3D performance is a far cry from a thumping, EDM fest, the broad language of the ban means that they can't host their show within the city.
"After Time Warp, a ruling by [Argentian appellate] Judge [Lisandro] Fastman banned all electronic festivals," the City's Governmental Control Agency told Clarin. "Therefore, despite the fact that the papers were presented 30 days in advance, we can not grant such permission."
The show's promoter Move Concerts told the paper that over 70% of the tickets have already been sold and that Kraftwerk should not be subject to the ban.
"They use synthesizers but [the show] has another format: It is a concert for all audiences that lasts between an hour and a half and two hours; And no alcoholic beverages are offered," they said.
Fans were also quick to point out the difference between a Kraftwerk show and an EDM fest, with one Twitter user joking that the only pills taken by Kraftwerk fans in 2016 are ibuprofen.
Move has yet to announce what they plan to do about the already sold tickets, or whether they plan to move the concert outside of the city.