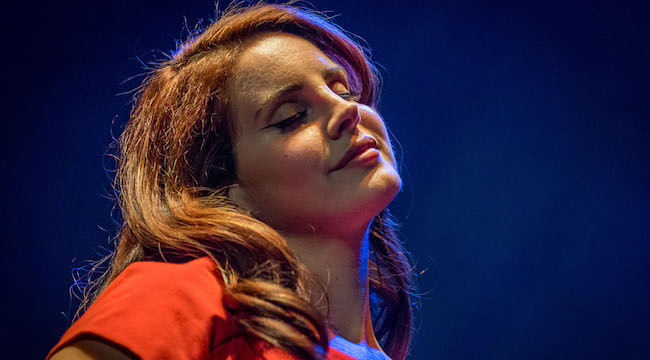 Earlier this year, Lana Del Rey said that she was being sued by Radiohead because the band apparently thought that "Get Free," from Del Rey's 2017 album Lust For Life, sounds too much like "Creep." At the time, she even thought that the song could end up being removed from future physical releases of Lust For Life. Radiohead told a different story about this dispute, however: Radiohead's publisher said that while the two parties had discussed the song, there was no actual lawsuit at that point.
The whole story was pretty murky and filled with as many questions as answers, but that might now matter now because it looks like it's over. At Lollapalooza Brazil this weekend, Del Rey performed, and during her encore, fans were vocal about wanting her to perform "Get Free," to which she responded, "Now that my lawsuit's over, I guess I can sing that song any time I want, right?"

It's currently unclear what the results of this dispute were. Del Rey previously said Radiohead wanted "100% of the publishing" rights, which the band's publisher denied. It appears as though Radiohead has not received a songwriting credit on the track, or at least that info hasn't been updated on Spotify: As of the posting of this story, Spotify notes that "Get Free" is written by Kieron Menzies, Lana Del Rey, and Rick Nowels, none of whom were involved with the writing of "Creep."
Watch Del Rey perform "Get Free" at Lollapalooza Brazil above, beginning at about an hour and sixteen minutes into the video.