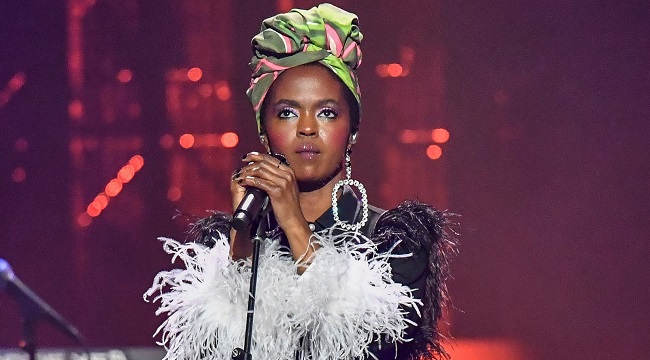 Drake sampled Lauryn Hill's "Ex-Factor" for his "Nice For What" hit, and L-Boogie took it right back last night at the Apollo. The legendary artist – who is preparing for a national tour this summer – jumped into a remix of the Billboard chart-topper at an evening performance. The moment exemplified why Hill's Miseducation Of Lauryn Hill is a classic album. Footage captured at the event shows Lauryn dropping the beat for "Ex-Factor" and pumping up the crowd before the New Orleans Bounce-infused "Nice For What" dropped. "What ya'll know about this," she asked the crowd as sputtering hi-hats charged up some exciting fans who knew the banger all-too-well.
Hill's live band drummed over the track, as Lauryn rapped, "See this is 'Ex-Factor'/ He took the sample / My sh*t is classic / Here's an example." Indeed. Murda Beatz, 40, Cory Litwin, and New Orleans Bounce legend Blaqnmild collaborated on the beat, each adding their own flourishes.
Lauryn Hill's "Ex-Factor" was also recently referenced on Cardi B's "Be Careful," for an album that dropped the same day as "Nice For What." Fans and artists alike have always loved the track, but now they're actually infusing it into their own music. It's a pleasant "roses-while-you-can-smell-them" moment for Hill, who has been long adored for her musical virtuoso. As we head into the 2020s, her music is going to be considered classic soul just like '70s music was to '90s producers. It will surely be exciting to see the ways in which other producers flip her catalog.