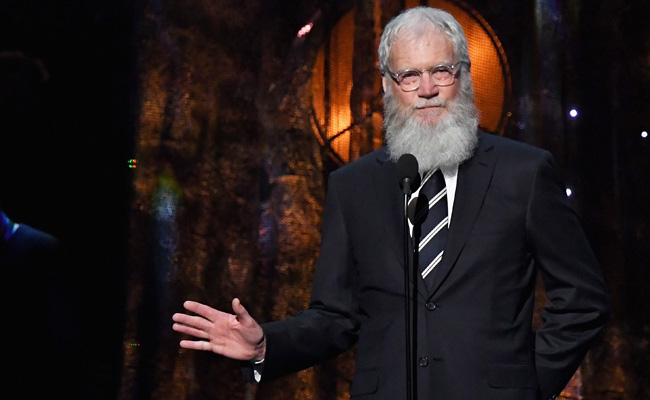 David Letterman was at his witty best on Friday night while inducting Pearl Jam into the Rock And Roll Hall of Fame. "I can't even begin to tell you what an honor and a privilege it is to be out of the house," he told the crowd at the Barclays Center, channeling some of his best moments from his days hosting in late night. And it was fitting because he was inducting a mainstay of his show into the hall, even if he was a replacement for Neil Young.
Young had to bow out, but Letterman made sure a few jokes were launched in his direction during his speech before singing the praises of live music to the crowd:
For 33 years. From the people in the Rock and Roll Hall of Fame and people who will be in the Rock and Roll Hall of Fame and then for two years that went away. CBS caught me using a copier and fired me. When I came here to rehearsal and heard live music again I was reminded, oh my God what a gift live music is. I know all of these people and my band and Paul Shaffer were tremendous. Never take the opportunity for live music for granted and that's the message I can bring you folks tonight.
Letterman has nothing but great things to say about Eddie Vedder and the guys from Pearl Jam, noting that they "literally blew the roof off" the Ed Sullivan theater with each of their 10 appearances on The Late Show. It was a great speech that was highlighted by the moment he read a letter that Vedder had written to his son Harry:
"Hi, Harry. My name is Eddie Vedder and I'm a friend of your dad's. I wanted you to have this small guitar to start with. Try it out, make a little noise, I'll make you a deal. If you learn even one song on this guitar I'll get you a nicer, bigger one for your birthday. Maybe an electric one. You let me know." And my son loves to fish, Eddie adds here, "Playing guitar is kind of like fishing. Fishing for songs. Good luck, Harry, in all things. Yours truly."
He also dropped a fine line about returning to induct Warren Zevon into the hall of fame, which is definitely something that needs to happen. You can check out the full speech above.
The band's actual induction featured a few surprises, including an all-star performance of Young's "Rockin' In The Free World" with fellow inductees Yes and Journey and the guy from Rush. The induction also reunited the band with original drummer Dave Krusen for the first time in 25 years. He joined the hall alongside the other members and sat in to play drums on "Alive" from Ten, the only album featuring Krusen on drums according to Pitchfork.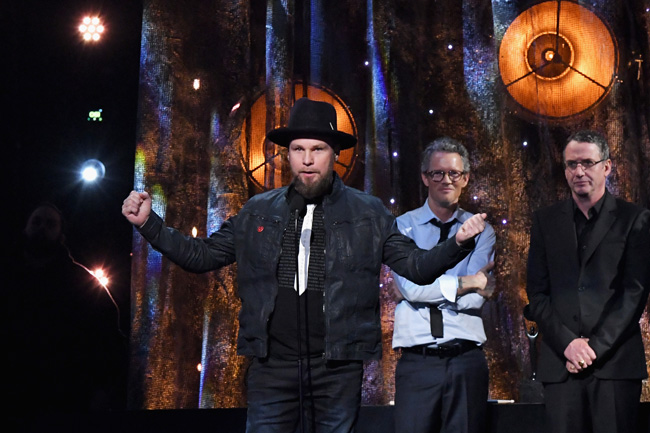 But aside from Letterman and the general vibe of the night, the standout moment might be bassist Jeff Ament's t-shirt. It doesn't look like anything special from the image above, but it makes a clear statement against the Rock and Roll Hall of Fame once you take a closer look:
None of the acts featured are in the hall of fame, including standouts like Slayer, Iron Maiden, Judas Priest, Brian Eno, Warren Zevon, T.Rex, Thin Lizzy, and many, many more. They're all names that are part of the discussion whenever the inductions are announced each year and it's only a small selection of the names passed over — sometimes for many bands they've influenced. No matter what, it's a pretty great shirt.
(Via Rolling Stone)