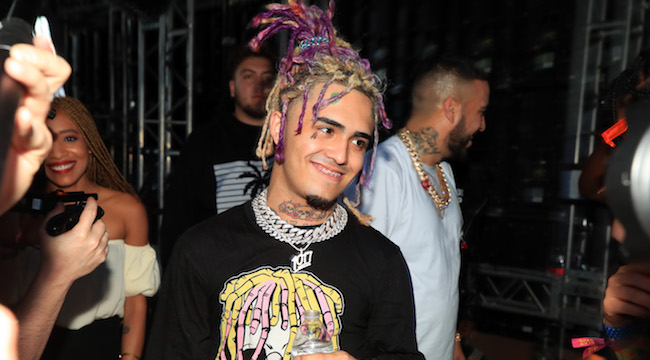 17-year-old Florida rapper Lil Pump, who has quickly become a hot commodity in hip-hop thanks to catchy singles like "Gucci Gang" and "iShyne," became a target of 33-year-old hip-hop veteran J. Cole when his 2017 throwaway joke track "F*ck J. Cole" reached the older rapper's ears. The offhand diss sent Cole to the studio for "1985 (Intro To 'The Fall Off')" from his new album, K.O.D., wherein he responds by predicting that Pump will end up on Love & Hip-Hop the final repository for washed-up rappers clinging to their last thread of relevance.
Of course, Lil Pump, being a Generation Z rapper born and bred in the era of the internet troll, has already responded. Rather than hunting down a mic and a beat to unleash a lyrical lashing on his elder, he did what all the kids do these days: Hit the 'Gram, posting a short video to his Instagram story (captured by Worldstar Hip-Hop, naturally) with the entirety of his response, which was little more than a shrug of the shoulders.
"Wow, you get so much props. You dissed a 17-year-old. Lame ass 'jit,'" Pump exclaimed sarcastically, before signing off without ceremony.
It's not the battle rap of yesteryear that many older heads would have preferred, but is his derisive response entirely wrong? By baiting J. Cole into responding to his poorly-constructed troll (seriously, "F*ck J. Cole" is all of 45 seconds worth of lyrics, with over half its runtime being comprised of the title phrase repeated ad nauseam), Pump receives added attention for essentially doing nothing, while Cole finds himself stuck in a Catch-22.
His fellow Millennial rap fans give him to almighty side-eye for letting himself be "disrespected" by the young up-and-comer, but if he responds further, it does kind of make him the bully in the situation, since he's twice Pump's age and won't really earn any points for punching down. It'd be like LeBron James dunking on Bronny: Unimpressive, excessive, and ultimately a waste of energy on his part. Despite the purported rap rules of engagement for such situations, it may be that the best course of action for the vet would be to heed the first rule of the internet instead: Don't feed the trolls.