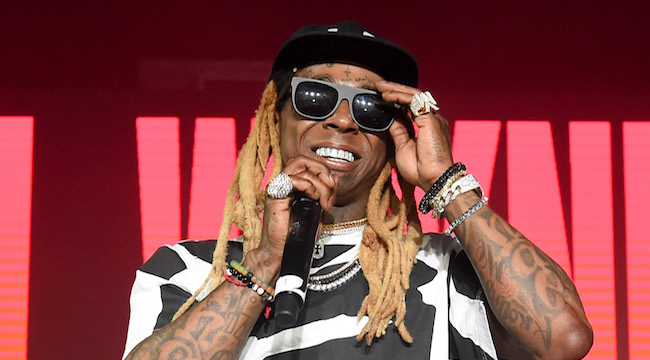 It's real shame that Birdman's spending habits have been throwing off Lil Wayne's finances for so long, because the diminutive Louisiana rapper just might be needing those funds in the near future. Of course, that depends on the outcome of the paternity test TMZ reports Wayne will undergo at the request of Keiotia Watson, a Louisiana woman who claims that Wayne is the father of her 15-year-old son named — fittingly — Dwayne (Weezy F. Baby's real name is Dwayne Carter).
According to TMZ's report, Watson filed court documents two years ago to establish paternity and petition for child support. She's asking for $5,000 a month, and a Louisiana judge has ruled in her favor but TMZ says Wayne hasn't paid up just yet. Wayne's representatives say he was never served legal papers or notified that he may have another son. Wayne plans to take the paternity test to establish whether or not he'll pay, but says that he will agree to the child support payments if he does turn out to be the child's father.
Hopefully Wayne's mentor and Like Father, Like Son partner-in-rhyme comes through on his 2017 promise that The Carter V is definitely coming out. Wayne could probably use the extra income even if it does turn out he won't owe the $5K monthly payments (he already has four other kids), and we could all use more high-quality music from the pioneer of the current golden age of weirdo rap.