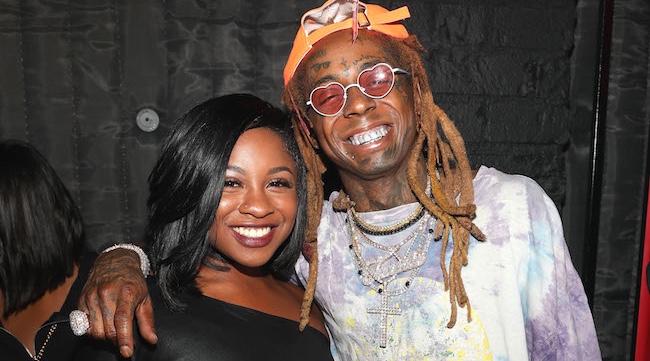 Lil Wayne had plenty of reasons to celebrate last night: Not only is today his 36th birthday, but his long-awaited album, Tha Carter V, is finally out now via his own Young Money Records — and he's getting all of the profits instead of Birdman. That is, he's getting all of the profits not tied to the splits from features and production credits, which feature a low-key who's-who of hip-hop royalty.
While the name that may attract the most attention is XXXTentacion, the late, controversial Floridan rapper who was accused of domestic assault yet stringently beloved by young fans who discovered his music through Soundcloud, the album's true breakout would appear to be Taylor Gang's Sosamann, who lands his first big-name co-sign with a credit on "What About Me."
Meanwhile, usual Young Money suspects Nicki Minaj and Mack Maine stop through on "Dark Side Of The Moon" and "Start This Sh*t Off Right Again," but there's unfortunately no sign of Drake, who made appearances on Wayne's Dedication 4. Snoop Dogg, Travis Scott, and Kendrick Lamar round out the big-name guest rap stars, but there are plenty of R&B legends of yesteryear listed on the 23-track project, including Ashanti and Nivea. However, the feature that may be most meaningful for Lil Wayne is the one on "Famous" — his now-19-year-old daughter, Reginae Carter.
While many of the listed producers may be a bit under-the-radar, Wayne still brings in plenty of heavy hitters, namely Ben Billions, DJ Frank E, Metro Boomin, Sevn Thomas, and Swizz Beatz, but longtime fans will probably be most excited about the return of the chemistry between Wayne and Cash Money's original golden beat maker, Mannie Fresh. Check out the full credits below.
Lil Wayne's Tha Carter V Production Credits
1. "I Love You Dwayne"
2. "Don't Cry" Feat. XXXTentacion (Produced by Z3n and Ben Billions)
3. "Dedicate" (Produced by Roc & Mayne, Louie Haze and Manny Galvez)
4. "Uproar" (Produced by Swizz Beatz and Avenue)
5. "Let It Fly" Feat. Travis Scott (Produced by Sevn Thomas and Dirtwork)
6. "Can't Be Broken" (Produced by Thomas Troelsen and Ben Billions)
7. "Dark Side Of The Moon" Feat. Nicki Minaj (Produced by Bloque and Jonah Christian)
8. "Mona Lisa" feat. Kendrick Lamar (Produced by Infamous and Angel "Onhel" Aponte)
9. "What About Me" Feat. Sosamann (Produced by DJ Frank E and Johnny Yukon)
10. "Open Letter" (Produced by Johnny Yukon and DJ Frank E)
11. "Famous" Feat. Reginae Carter (Produced by Lasanna "Ace" Harris and Sham "Sak Pase" Joseph)
12. "Problems" (Produced by Zaytoven)
13. "Dope N****z" Feat. Snoop Dogg (Produced by Kamo and R!o)
14. "Hittas" (Produced by Jayones)
15. "Took His Time" (Produced by FreewayTJay)
16. "Open Safe" (Produced by Mikely "Mike Free" Adam)
17. "Start This S**t Off Right" feat. Ashanti and Mack Maine (Produced by Mannie Fresh)
18. "Demon" (Produced by 808-Ray and Cool & Dre)
19. "Mess" (Produced by Infamous)
20. "Dope New Gospel" Feat. Nivea (Produced by R!o and Kamo)
21. "Perfect Strangers" (Produced by Mannie Fresh)
22. "Used 2" (Produced by Metro Boomin and Prince 85)
23. "Let It All Work Out" (Produced by Reefa, Jordan and Myles William)